Petrovich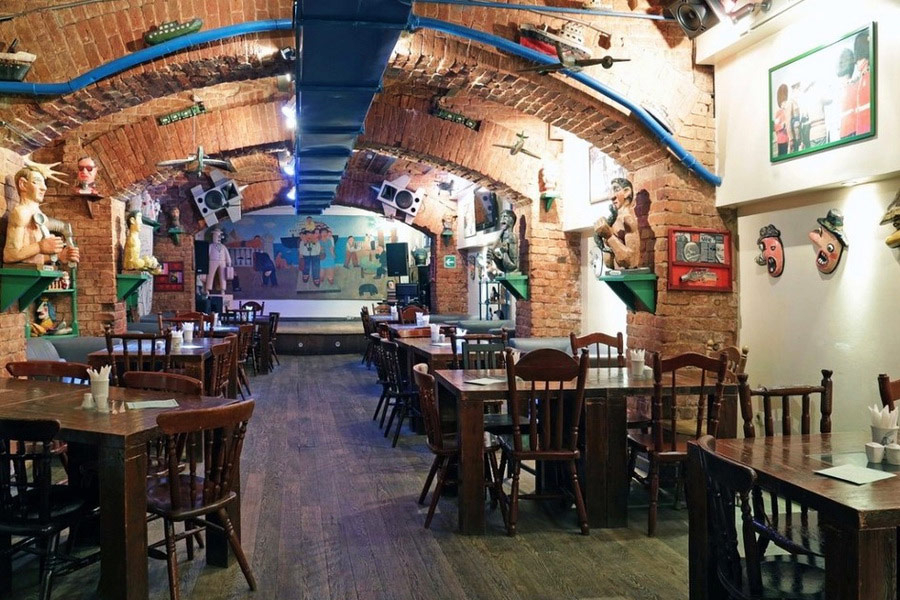 source:club-petrovich.ru
"Petrovich" is a conceptual Moscow club which was named in honour of a famous drawn personage that was created by Andrey Biljo, a painter. The club found its refuge in the basement of the 19th century where storage of a cognac plant was before.
In 1998 (one year after the opening) "Petrovich" got the diploma of the Moscow international exhibition "For the best public interior". In fact, there are many things to look at there. Visiting "Petrovich" is like a visit to a kitchen of the USSR time - photos of actresses, old photo cameras, plush bears and a three-wheeled bicycle are just a little part of the interior's elements. Along the walls there are funny wooden busts of popular actors such as Yuriy Luzhkov, Iosif Kobzon, Alla Pugacheva, etc.
"Petrovish"'s cuisine is a traditional Soviet cuisine: cutlets with buckwheat, olivie, seledka pod shuboy and other dishes which are known very well to every former citizen of the USSR. The dishes are served on the tableware decorated with Biljo's drawings.
On Saturdays one organizes "home dancing" in "Petrovish". Visitors dance to the music of Boni M, АВВА and Gloria Geynor, sing in chorus and dance among the tables. Besides food and dancing, the club's guests can offer other amusement of Soviet times: draughts, chess, dominoes, cards and other table games.
In the evening "Petrovich" receipts its guests only upon club cards, which can be taken free of charge, just being supported by two residents of the club. In the day time, however, "Petrovich" is open for anyone. Guests can also acquire any works from the club's collection, and even to order to make their own bust.