ZONA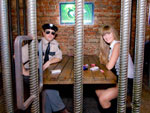 source: club.ru
"ZONA" night club is unique, on all parameters. First and foremost, the scale is staggered: it is a five-floored building where up to 7000 persons can stay simultaneously. Secondly, the club's design is made in prison style: barbed fire, cells, grids, guards with dogs, watch towers and waiters in prison clothes. If you are impressionable, do not look at the floor: white rats crawl under the glass covering there.
There are two spaces for dancing in "Zona": the first one is a dance court with furry walls and the revolving carrousel bar, the second one disposes of the club's main dance court which can place more than 2000 persons at the same time and where commercial house run the show. One more surprise – the floor level of the dance courts is "floating".
Those who got used to comfort conditions choose Zone XO or BORDEAUX. Visitors have a chance to relax there in the halls with elements of baroque style, sofas and fireplaces. One more oasis in that anthropogenic environment is the "Zona Del Rio" summer court with a cozy yard with a waterfall, pool with living ducks, chalet, swings and fire in the centre of the dance floor. The club can offer a VIP chill out for those who want to find a place to stay alone. The labyrinth will lead you to cubicles "Terrarium" (a real terrarium built inside), "Isolators" with leather upholstery and almost deprived of furniture, and "Death rows".
The "ZONE" club is a holder of the Night Life Awards 2006 in the nomination "The best dancing club of the year", a laureate of the "Soundtrack" Awards 2006. The legendary DJs and artists such as Marshall Jefferson, Hernan Cattaneo, Steve Lawler, Sander Kleininberg, Glamour To Kill, Nicky Ciano, Kosheen, Dirty Funker, Robbie Rivera, Dave Seaman, Wally Lopez, club Salvation (London) and others have been at the rotators for six years of the existence of the club.
ZONA is a club which combine incompatible, asylum for students, clubbers and businessmen which can meet the highest needs and satisfy the thirst for extreme at the same time.