Cafe Pushkin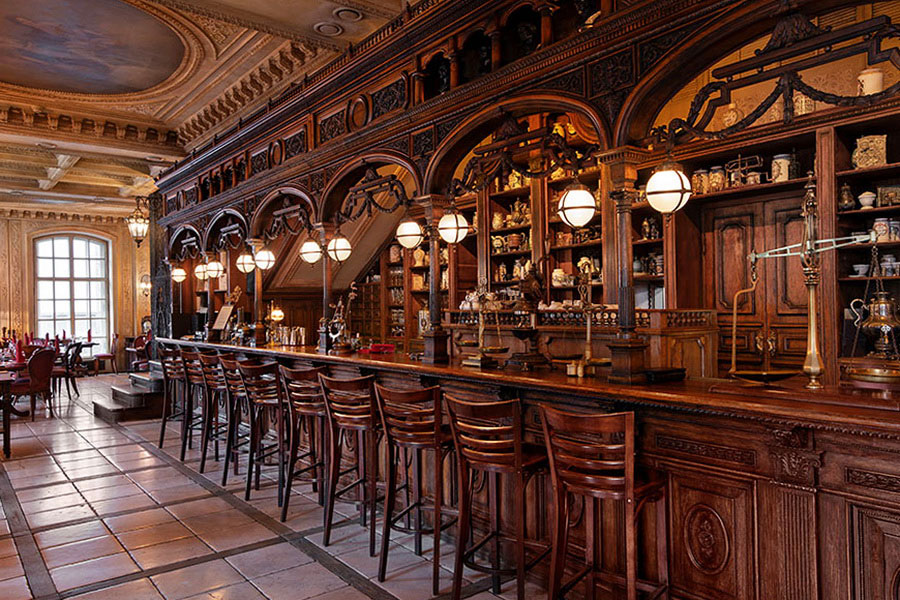 source: vizitorline.ru
Pushkin is a restaurant which is equally popular both among Moscow residents and among guests of the capital. It is placed on two levels. On the first one, there is more democratic café "Apteka" (literally – "Drudgery") with drudgery counters and classic Russian cuisine. On the second level there are "Biblioteka" ("Library") where rare books are gathered (as elements of the design) and Russian cuisine with slight French nuances is offered. The restaurant's design has been developed in the traditions of the 19th century. The speech of highly professional staff reflects the spirit of that time when this genius Russian poet lived and worked. The dishes' names are borrowed from newspapers of the past century: "Salmon Tartalets in Honey", "Mixed ukha (fish soup) with rasstegais (open-topped pies), a large and a small portion", "Sterlet entranced in caviar souse", "A pike head cooked in bourgeois style".
For breakfasts, there are served up baked milk, curdballs with cream, pancakes with black and red caviar, egg kasha with smoked salmon, traditional omlets and sandwiches.
In the daytime they will recommend you the "Lunch for ladies" and the Lunch for cavaliers" which are composed starting from both genders' preferences. Ladies will be offered snacks, hot dish and dessert, whereas gentlemen will be given snacks, a soup and a hot dish. Various desserts cooked by Emmanuel Rion, French confectioner, will not leave you indifferent.
One more pleasant surprise is the "valet parking" service: guests' cars are driven off to the parking by professional drivers and then, by the end of the dinner, are driven back to the restaurant again.