Chesme Church, Saint-Petersburg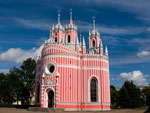 source: fotki.yandex.ru
Of all the churches in St. Petersburg, and probably Russia, Chesme Church is indeed special thanks to its unique architecture. It looks like a colorful toy cardboard house painted red and white stripes. In general, the church was built in fashionable for the 18th century Gothic style. The church is generously decorated with lancet windows and doorways, decorative pinnacles and toothed parapets. The building is crowned with five small domes, the drums of which are also decorated with pinnacles.
Originally the church belonged to Chesme palace, which was built that marshland in the honor of joyous event - the defeat of the Turkish fleet in Chesme Bay during the Russian-Turkish war. Ostensibly, the news reached Catherine the Great right there, on her way to Tsarskoe Selo.
While constructing the palace, the architect was guided by the look of medieval English Longford castle. Next to the palace Chesme church was built. On Jun 24, 1780 the church was solemnly consecrated to celebrate a decade of Chesme victory. During the Second World War the temple was severely damaged and only thirty years later, in the 1970s, the restoration of the church began. In 1977 the branch of the Naval Museum «Chesme victory» was opened. In 1991 the church resumed its services.
Sights
Vicinity
Leisure
Miscellaneous