St. Andrew's Cathedral
St. Andrew's Cathedral is the true ornament of Vasilevsky Island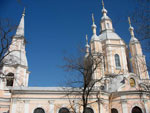 source: allross.ru

This magnificent temple is located on Vasilevsky Island and is the true ornament of this part of the Northern Capital. The beautiful light pink building with a high silver dome and a bell tower, high turrets crowned by onions of domes is a beautiful example of baroque style.

The cathedral was built in 1780 by the architect Vista on the site of the burnt down wooden church. The outstanding iconostasis of the cathedral was founded in 1770s in the Baroque style by unknown masters. The height of the cathedral is 45 meters. In 1732 it was consecrated in the honor of the Holy Apostle Andrew. Saint Andrew was a disciple of John the Baptist and was the first to follow Christ along with his brother Peter. The Emperor Peter I highly regarded both the apostle Peter and his brother. In 1797 it got the status of chivalric order cathedral and the cherubs supported sign of the Order of St. Andrew was put up. The patronal feast days of the cathedral were the days dedicated to the Apostle Andrew - July 30 and November 30 (June 13 and December new style).

In the 19th century the cathedral was partially rebuilt, but the main features of its exterior were preserved. In 1938 the temple was closed. Only in 1992 the cathedral was returned to believers. In our time the obelisk in the honor of the Order of St. Andrew as well as the chapel in the name of the St. Duke Vladimir the Equal-to-Apostles were built.