Summer Garden, Saint-Petersburg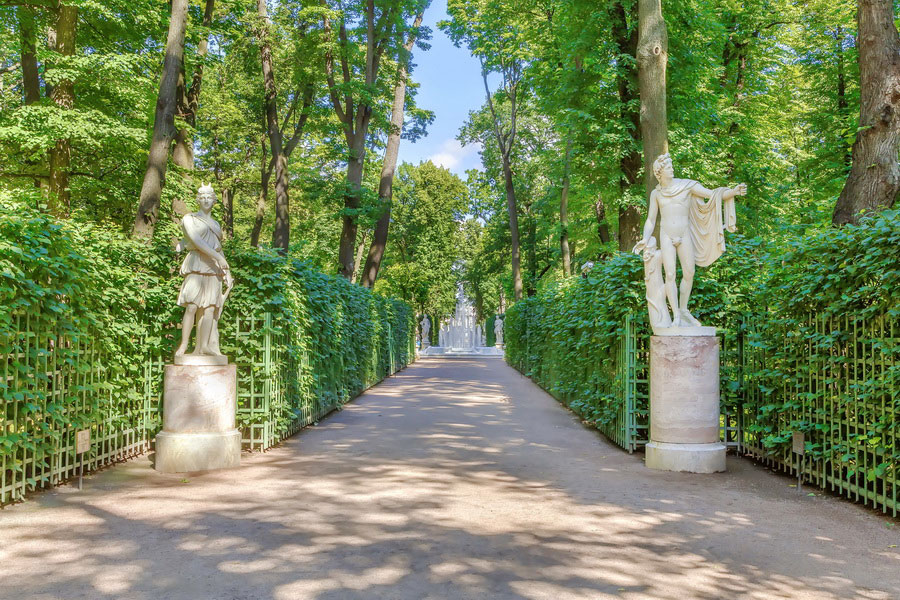 Summer Garden is the first garden of St. Petersburg, which was used as the center for culture and entertainment. The Emperor Peter I laid it immediately after the founding of the Northern Capital. The territory of the garden is a monument of culture of the 18th century. The uniqueness of this monument located on Kutuzov Embankment, is in the fact that its entire arrangement has remained virtually unchanged since the time of Peter the Great. The king was fond of this garden where luxurious balls and receptions attended by the most prominent people of St. Petersburg were organized. Peter himself designed the park plan. According to his orders the park was filled with flowers and trees of various species, fountains, wide alleys, pavilions, galleries and ponds with swans and ducks.
But the biggest attraction there were the marble statues, the works by renowned European masters of the 17th – 18th centuries brought to the young Russian capital from all over Europe. The garden became a kind of a museum of decorative garden sculptures of the 18th century. By 1714 the Summer Garden had received two-storey Summer Palace of Peter the Great. In 1777 St. Petersburg saw one of the mightiest floods in its history. As a result, the fountains, the grotto, the pavilion and numerous arbors of the Summer Garden were destroyed. The statues suffered too. In the 18th century the number of statues in the garden totaled around 200. Today, there are less than 90: a part of their number was sent to various museums.
Of the surviving copies the most interesting are the sculptures of Alexander the Great, Marcus Aurelius, the Polish King Jan Sobieski as well as the statues symbolizing Architecture, Glory, Navigation, Justice and the characters of ancient mythology - Minerva, Bellona, Nemesis, Euterpе, Flora, Mercury, Bacchus, and so on. Gradually, under the influence of time of the imperial garden turned into a municipal garden. In the 19th century it was the place of the «Bridal Fair»: the young merchants used to walk along the alleys lined with other merchants' daughters and their mothers and nannies. It was possible to propose right on the spot. At the same time the Summer Garden was a place for strolls and meetings of St. Petersburg-based poets, writers, painters, composers. It was often visited by Alexander Pushkin, Ivan Krylov, and Vasily Zhukovsky, I.A. Goncharov, Pyotr Tchaikovsky, Alexander Block and many others.
In the 19th century the garden received new pavilions - the «Coffee House» and the «Tea House». In front of the «Tea House» you can see the monument to the fabulist Ivan Krylov. The pedestal of the monument is decorated with bas-reliefs depicting the of Krylov's fables. From the Neva River side the Summer Garden is fenced with the laced gilded lattice, a real masterpiece of decorative art. This lattice is so beautiful that it become one of the symbols of St. Petersburg. At the moment, the Summer Garden is on restoration.