Trinity Cathedral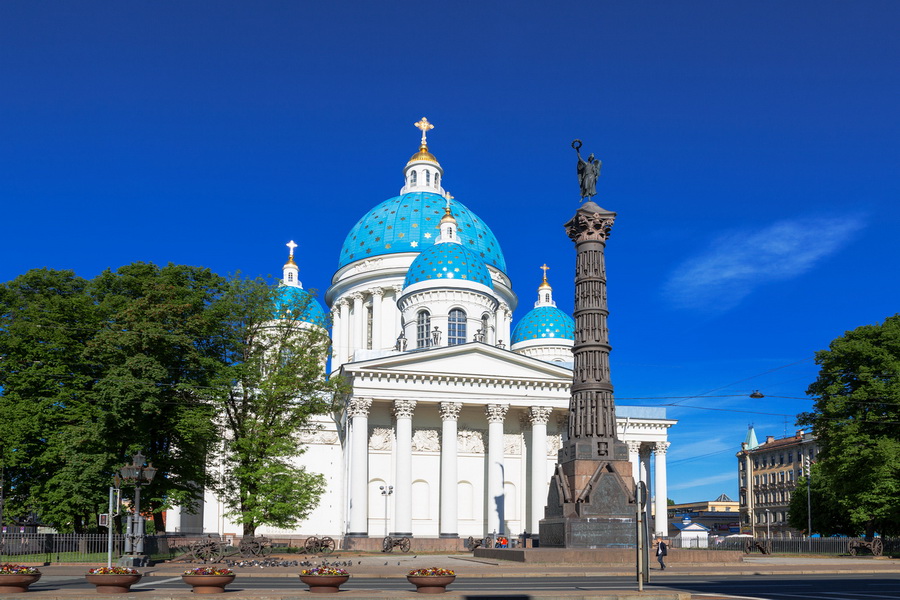 The bright blue domes of the temple are known to every St. Petersburg citizen and visible from a far distance. The cathedral is indeed one of the monumental temple buildings of St. Petersburg. It was erected in 1828-1835 in honor of the Life Guard Regiment Izmailovsky, one of the oldest in Russia, which took part in many crucial and major battles. Initially, in 1754 the Guards Regiment had a wooden church. The current cathedral was built on its place by the architect B. Stasov.
Trinity Cathedral is a grandiose big white temple decorated with four porches and five blue domes. The building is decorated with the luxurious frieze; the columns and cast iron balustrade tripods give the building elegant and splendid look. The cathedral walls carry commemorative marble plaques with the names of Izmailovsky Regiment officers fallen in battles. One of the most revered shrines of Izmailovsky Trinity Cathedral is the icon of the Holy Trinity painted in the 15th century.
Trinity Cathedral was the place where the famous Russian writer Fyodor Mikhailovich Dostoevsky married Anna Snitkina in 1867. After the 1917 revolution the Trinit Cathedral was looted and shut down. In 1990 the Cathedral was returned to believers.