Cruiser «Aurora», Saint-Petersburg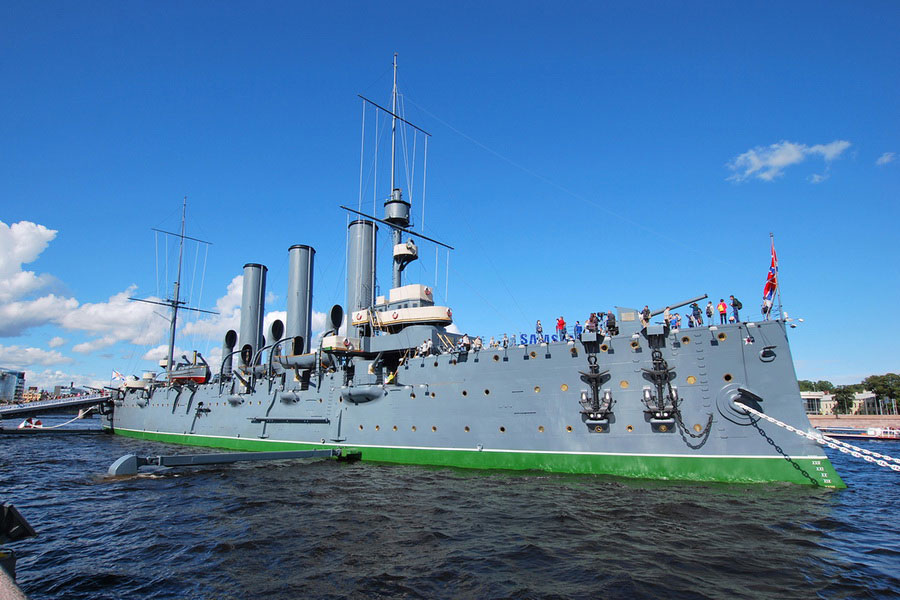 The naval cruiser "Aurora", which played a key role in the 1917 Bolshevik Revolution, is now a fascinating museum.
The ship, which was built between 1897 and 1900, was named "Aurora" by Emperor Nicholas II, in honour of the ancient Roman goddess of the dawn. Its displacement was 6,731 tonnes at the time of the launch in 1900. Initially, 42 guns and three torpedo tubes were installed. Later, some guns and torpedo tubes were removed, while anti-aircraft weapons were added.
The ship's first main experience of conflict was during the Russo-Japanese War, when it participated in the Battle of Tsushima. The Aurora then played an active part in the Baltic Sea fighting in World War I.
In October 1917, a blank shot from the ship initiated the assault on the Winter Palace and the October revolution, which changed the course of Russian history and ushered in more than 70 years of Communism.
Subsequently, during the Great Patriotic War (World War II), the Aurora was incorporated into Leningrad's air defence system, with anti-aircraft weapons installed on the ship. Some of the ship's guns were dismantled and sent to the front.
At the end of the war, after the Leningrad blockade was lifted, it was decided that the Aurora should become a monument and a museum. It is now protected by the state and, while still a commissioned, active ship in the Russian Navy, is permanently moored on the Niva River in St. Petersburg. One of the most unusual museums in the city, it showcases about 100 original documents that depict the role of the Aurora in Russia's history.
This legendary ship has been captured in cinematography, literature, and music. Many people know the song "What are you dreaming of, Cruiser Aurora?" by Vladimir Shainsky and Mikhail Matusovsky. This song became one of the unofficial anthems of St. Petersburg. The Aurora has also been depicted on postage stamps from different countries, and on Soviet anniversary coins. It was twice awarded the Order of the October Revolution, which, notably, depicts the ship itself.