Naval Cathedral of St. Nicholas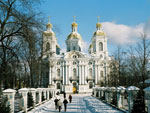 source: fotodia.ru
Since the 18th century Naval Cathedral of St. Nicholashas been actively involved in the life of the Russian fleet. Every major event – launching of the new ship, overseas expedition or returning from a long voyage was accompanied by a divine service. All solemn prayers related to the main sea victories have been prayed there.
The beauty of this temple is fascinating: a grand two-storey building crowned with five golden shining domes. The central dome on the faceted tower is the biggest and tallest of all, it is surrounded by other symmetrical slender towers with golden domes.
The cathedral is built in the style of late Russian Baroque. Its naval nature is highlighted by the blue and light blue facades decorated with white columns, cornices and stucco molding. These elements give the whole temple the feeling of elegance and solemnity. The cathedral was built by request of Prince M. Golitsyn who advised Empress Elizabeth to build a temple in the honor of St. Nicholas, the patron saint of seafarers, in St. Petersburg to commemorate the memory of the glorious deeds of the Russian navy. The construction of the church lasted from 1753 to 1762.
The construction site of the cathedral was not chosen by chance - in the 18th century this area belonged to Naval court. St. Nicholas Cathedral consists of two churches - the upper and the lower. The lower church was consecrated in the name of Saint Nicholas. The upper one - the Epiphany, hence the full name of the church - St. Nicholas Cathedral of Epiphany. The main shrine of the Cathedral is the icon of St. Nicholas dated the 17th century.
By Catherine the Great's decree, ten icons in the memory of Russian sea victories over Swedish and Turkish fleets were placed with the Cathedral. Separately standing is the slender four-level bell tower with a thin gilded spire.