Vladimirskaya Church, Saint-Petersburg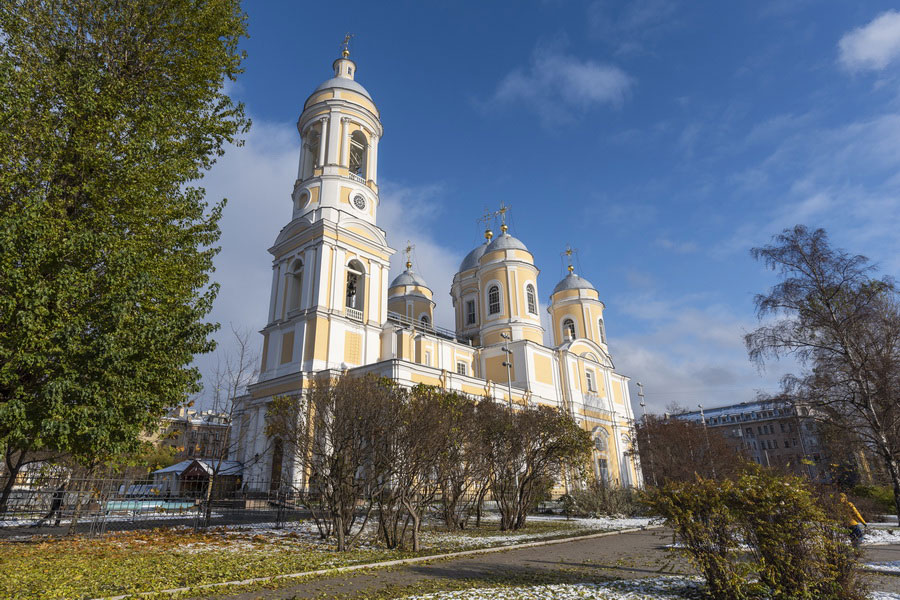 Vladimirskaya Church is considered the masterpiece of temple architecture of Empress Catherine epoch. The church named after Vladimir the Equal-to-Apostles was built on the site of the former wooden church of the Assumption of the Blessed Virgin Mary in 1708. The project was approved by Empress Catherine II personally.
In 1789 the temple was finished and consecrated in the memory of Duke Vladimir in commemoration of the 800th anniversary of Christianity adoption. The building of the church is an example of strict classical architecture: yellow facades are decorated with white cornices, columns, and porticos. According to ancient Russian tradition, the church has a 5-domed structure. The main building is decorated with high round towers with silver domes. The tall multi-tier belfry is added to the side of the church. The temple is known for its rich interior paintings and stained glass.
The are three icons in the side Assumption altar depicting St. Duke Vladimir, St. Nicholas the Miracle Maker and St. Seraphim of Sarov; there are also Theotokos of Tikhvin and Panagia Portaitissa Icons of the Mother of God. The church is also for known for its Mother of God of Kazan icon, the image of the Dormition of the Mother of God - a copy of the actual icon - the treasure of Lavra.