The Palace Square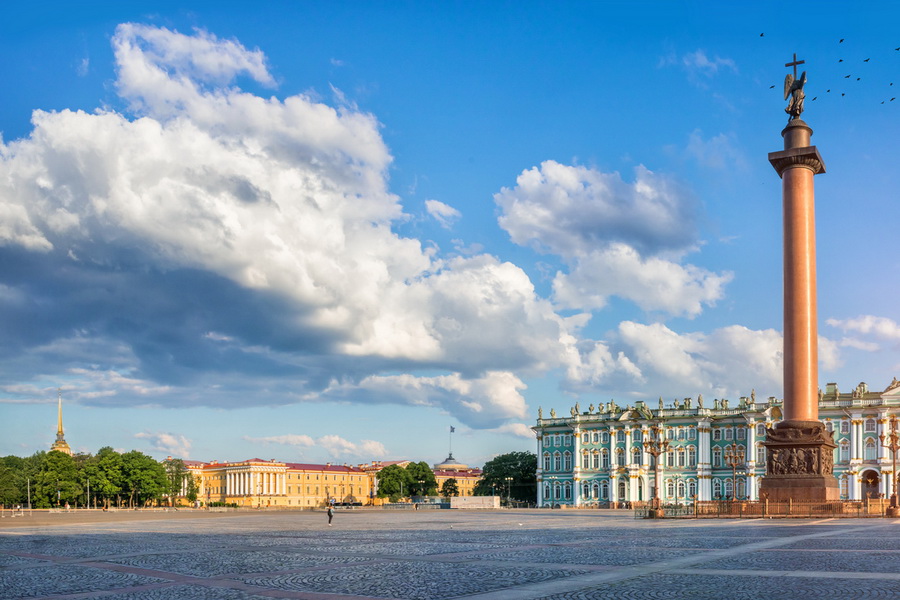 The famous square of St. Petersburg occupies the central place not only in the city planning but also in its history. It is a keeper of secrets of the city, the witness the multiple victories and the bloody events that took place in the life of the city and now Palace Square is the place where the most important and significant events and activities take place.
The Palace Square is of triangle shape with smooth corners and represents perfect and harmonious architecture complex which is considered perfect not only in St. Petersburg but also throughout the world. The square is framed by most beautiful buildings. It is bordered on one side by the façade of the Winter Palace, on the other - the huge semicircle of the General Staff building; the middle of the square is marked by the Alexander Column. The main building of the complex is the Winter Palace that gave it the name. The palace was built in the middle of the 18th century by the famous architect Rastrelli as the winter residence of the imperial family. The main facade of the Palace goes out to the Palace Square. The white columns in the tender green background of the buildings are designed to give the entire building gracefulness and airiness inherent in the Baroque architecture. Now the palace hosts the State Hermitage.

In general the architectural complex and the composition of the square were formed in 1820-1830s the grand house of the General Staff in the Empire style with an incredibly long façade was erected. The building is decorated with the double triumphal arch with the chariot of glory guided by the winged goddess of Victory. This sculptural composition glorifies the victory of Russia over Napoleon. The height of the sculptural group is 10 meters, the height of the arch - 28 m, its width is 17 m. The General Staff building now hosts a part of the Hermitage collections. The Palace Square has preserved the memory of many important historical episodes: demonstrations, rallies, appeals to the people by the Emperor. On January 9, 1905 the Palace Square witnessed the tragedy known as Bloody Sunday. The group of unarmed peaceful demonstrators came to the Winter Palace intending to ask the tsar for improvement of living and working conditions. But the tsar was not at the Palace and the unarmed people were shot at by the guards. About 1,000 people were killed, 5,000 were seriously wounded. The bloodshed, which gave the name to the Bloody Sunday, resulted in the first revolution in Russia. To honor the memory of killed people the Palace Embankment got a new name – Naberezhnaya of January 9 – that stayed until 1944. In October 1917, the square saw significant battles of October armed uprising in Petrograd. In Soviet times the Palace Square was the venue for demonstrations and parades on the days of revolutionary holidays.