Nevsky Prospekt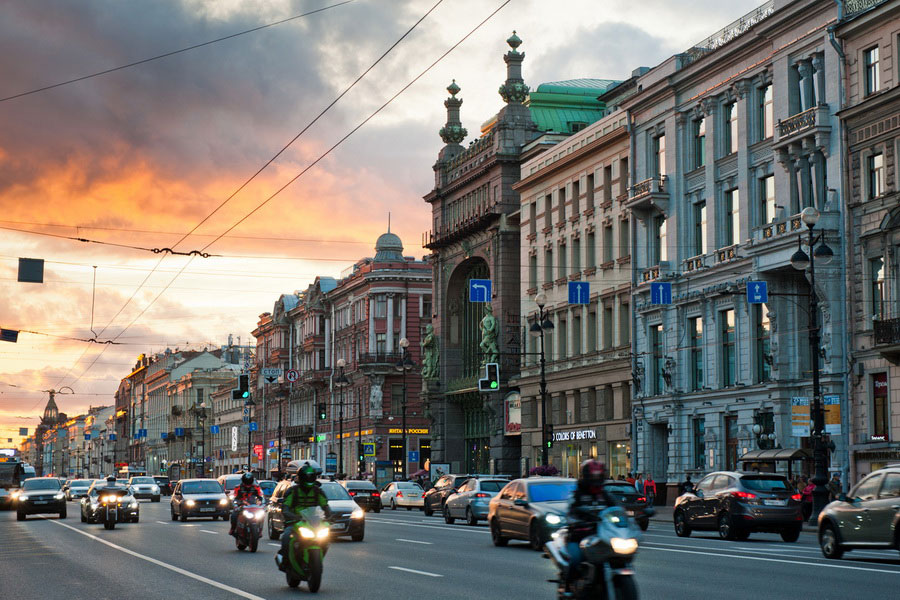 The people of St. Petersburg have their favorite street. Like the Arbat in Moscow, it is the main artery of the city, its business card. It is the famous Nevsky Prospekt. As one of the oldest avenues of the city Nevsky has a long and interesting history. It was built together with the city in the midst of thick forests and swamps as the main road from the Admiralty to Alexander Nevsky Lavra. The road construction was completed in 1720. The new road immediately became lively and crowded. It was called Big avenue. In 1738 the street was renamed Nevsky avenue and the title «Nevsky Prospekt» appeared in 1781.
The main city road soon was lined with palaces and public buildings, mansions and boarding houses. They were reconstructed, modified, and restored. In 1863 the horse railroad was built. The total length of Nevsky Prospekt is about 4.5 km. It begins from the Palace Square and ends at the Alexander Nevski Square, where Alexander Nevsky Lavra complex starts.
Nevsky Prospekt has always been the center of cultural life of Petersburg. In the mid 18th century there lived prominent architects of St. Petersburg: Rastrelli and Zemtsov. At 13,Nevsky Prospekt, which was built in 1804-1806, lived great people such as Griboedov and later Mussorgsky. Nevskiy was visited by many writers; there they met, discussed their works. They inhabited Nevsky with their characters, whose prototypes lived there too.
Today there are numerous museums, theaters and concert halls, cinemas and libraries, well-known galleries and exhibition halls, offices of major banks, boutiques and hotels. The main attractions of the famous Nevsky Prospekt along with the monument to Catherine II, Alexandrinsky Theater, the church of St. Catherine, the Kazan Cathedral, the Armenian Church, the building the City Council are:
Anichkov Bridge
The Protestant St. Peter Church
House of Engelhardt
M.E. Saltykov-Shchedrin Russian National Library
Youth Palace of Art
Mayakovsky Library
University of Finance and Economics
Dutch Church