Peter and Paul Cathedral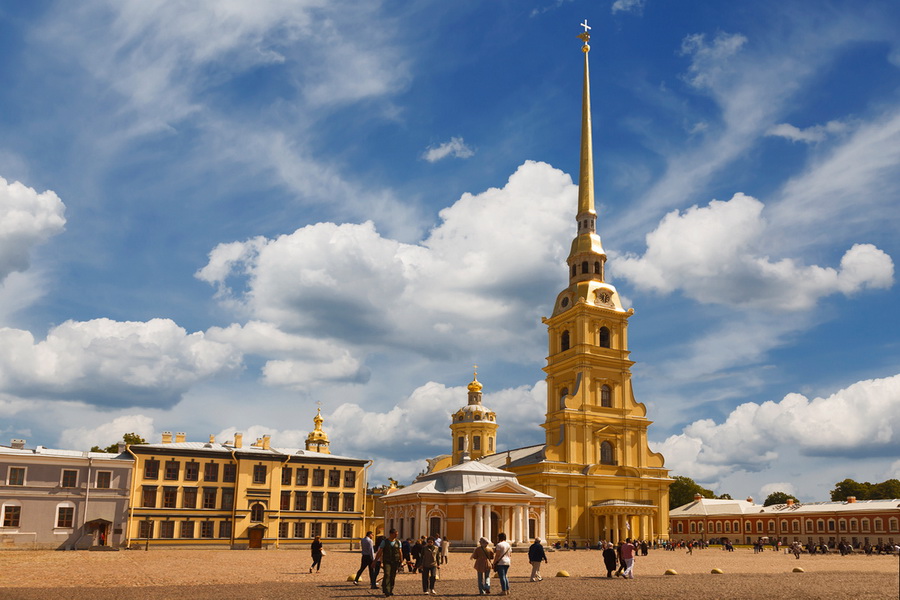 One of the oldest churches of St. Petersburg, Peter and Paul Cathedral, towers above the Peter and Paul Fortress. This outstanding masterpiece of temple art is a symbol of St. Petersburg. Its golden spire topped with a flying angel is known to every citizen of the Northern Capital.
The Cathedral also known as the Cathedral or the Holy Apostles Peter and Paul was laid on June 29, 1703. It first it was built from wood and later replaced by a stone church whose first corner stone was laid by Peter I on June 8th, 1712; the second stone was laid by the Empress Catherine. The construction ended only in 1733, and on June 28 Peter and Paul Cathedral was consecrated. The new church enthralled the parish with its noble beauty.
The multilevel openwork bell tower with the gilded spire topped by the angel with a cross decorates the building. The angel is 3.2 m tall, the height of the spire - 122 meters. More than 8 kg of pure gold were used to gild the spire. The total height of the bell tower is 122.5 meters. In 1776 the clock chiming the national anthem every hour, was installed. The interior decoration of the temple is no less elegant and reminds the front hall: the massive marble columns, omnipresent gilt. The iconostasis of the cathedral was made in the form of a triumphal arch. Its decor combines icons and figures of saints. In front of the altar is the gilded chair decorated with carvings and statues of the two apostles; symmetrically to the chair there is the Czar's Place richly embroidered with gold.
Besides being a church, Peter and Paul Cathedral served as the Imperial Tomb. There lie the remains of all Russian emperors from Peter I to Alexander III. In 1999, in the western part of the Tomb the ashes of king-martyr Nicholas II and his family were moved there. In the Soviet period the church services in Peter and Paul Cathedral were stopped. In 2001 the Cathedral was reopened.