Lekso's Marani, Georgia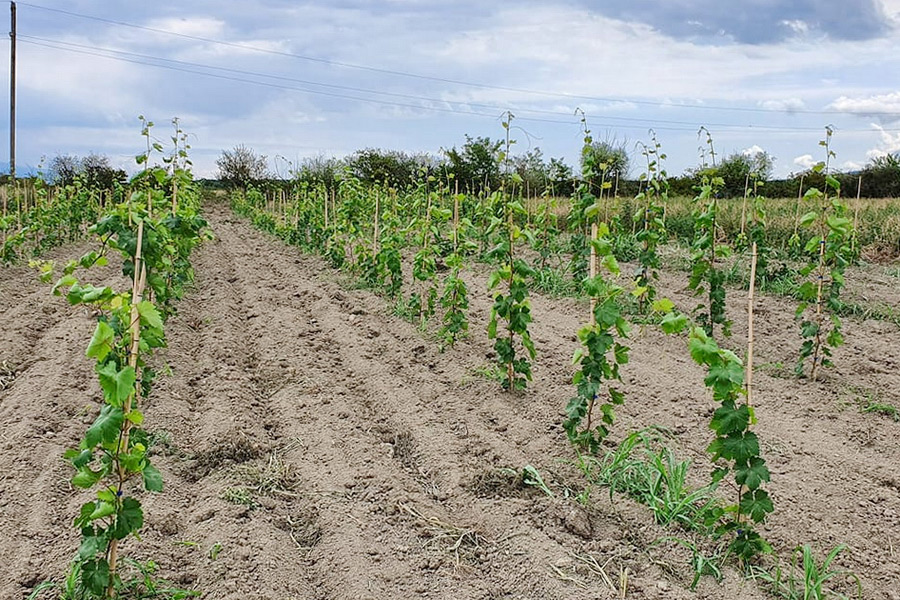 At the family-owned wineries in the valleys of Georgia's Kakheti Region, owners are known for putting their heart and soul into their work. Lekso Pitskhelauri, the congenial wine-loving owner of Lekso's Marani, is no exception, and the result is some of the finest wines that you will encounter.
Located in the village of Akhshani in Akhmeta Municipality, Lekso's Marani opened in 2015 and today produces around 8000 bottles annually, 70% of which are exported to countries around the globe. All of his wines are made in qvevri, large earthenware vessels used for the fermentation, storage and aging of traditional Georgian wine. Grape varieties used by Lekso include Rkatsiteli, Mtsvane, Kisi, Saperavi, Jananura (Khikhvi) and Pink Muscat. In a good year, Lekso's Marani also has a small number of Cabernet.
On a visit to Lekso's Winery, you can experience ancient winemaking traditions firsthand, sample high-quality local wines and enjoy the company of kind-hearted Georgian people .
Winery History
The winery is named after Lekso's grandfather, whose name was also Lekso. Now more than a century old, the wine cellar was first built with wooden planks which were replaced with blocks before the young Lekso was born. Some of its qvevri vessels – whose volumes range from just 5 liters to 2.2 tons - are also more than a century old.
Lekso can recall his family producing wine from his earliest days. Initially he planned to become a doctor but wound up working in the pharmaceutical industry, where he produced medical ethanol. Gradually Lekso got involved with alcohol production, gaining in-depth knowledge about winemaking in the process.
When Lekso first tasted wine made at Alaverdi Monastery, he was so impressed that he decided to age his own wine in qvevri vessels for at least six months. The wine he produced was originally only for home use, but after Lekso's friends pointed out that he had too much wine for personal consumption, he realized it was time to commercialize his venture. A turning point came in 2015 when Lekso bottled Rkatsiteli for the first time. An overwhelmingly positive response from friends and family motivated him to produce more wine, so for the 2016 vintage he ordered new 10-ton qvevris from the city of Chiatura, and the rest is history!
Lekso's Marani Wines
Although Lekso mostly manufactures wine with the produce from his own vineyards, which stretch across 2.5 hectares of land, he also buys grapes from other Kakheti winemakers. The winery has a current capacity of 20 tons of qvevri with which to ferment and age wine. Some of the most popular wines produced at Lekso's Marani include:
~ Pink Muscat – a highly acidic summer wine with a strong aroma, distinct pink color and an alcohol content of about 13%;
~ Saperavi Dry Red – the iconic wine of Lekso's Marani which contains up to 14% alcohol and pairs excellently with Kakhetian mtsvadi (national pork barbecue). Lekso himself usually drinks a small amount of his Saperavi before going to bed, as it helps him to fall asleep quickly;
~ Janaura – a white dry wine produced from the Khikhvi grape variety which pairs excellently with dried fruits and nuts. On hot summer evenings, a glass of this cooled wine is a true delight.
Future Plans
In addition to increasing the winery's stock of qvevri vessels annually, Lekso has plans to open a small hotel at Lekso's Marani. He also has dreams of building a cottage in the vineyard and of hosting dinner parties on site.
Visit this winery on the following tour:
Please note: family wineries often receive visitors only upon prior booking and commonly do not accommodate walk-in travellers. We maintain exclusive relationship with top family wineries in Georgia. With Advantour, you can arrange your wine visit and enjoy a tour with the tasting in the cellar. To book a tour, please contact us here.