Pheasant's Tears Winery and Restaurant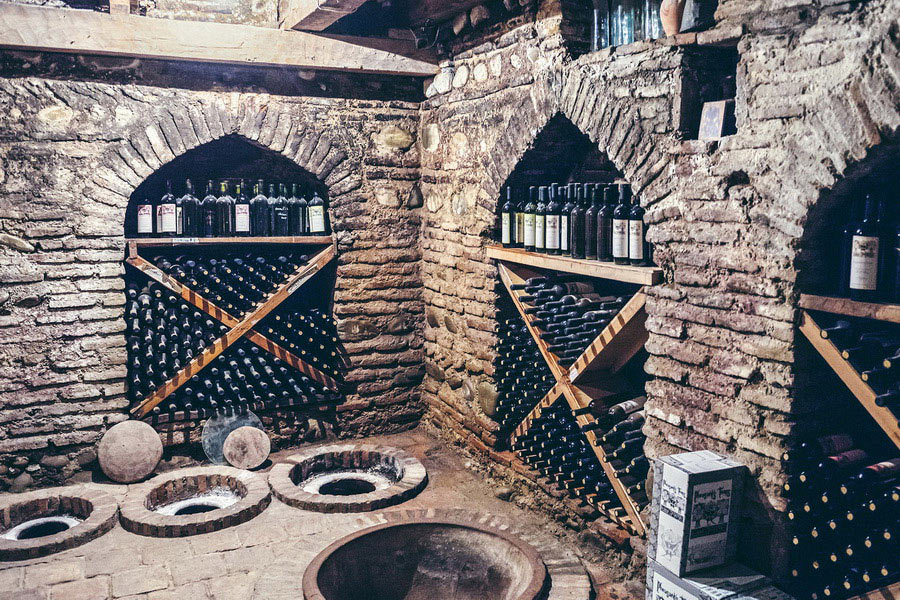 Pheasant's Tears Winery and Restaurant is located in the Georgian city of Sighnaghi, once a royal town and major trade center along the Great Silk Road which even to this day is surrounded by 23 towers. Now nicknamed the City of Love, Sighnaghi is indeed romantic with its sweeping views of the Alazani Valley.
This lovely town provides the perfect setting for Pheasant's Tears, a well-known establishment in the area. The owner's goal is to offer guests delicious food and wine and a glimpse into the region's ancient traditions, and those who have visited will attest to its success in all three areas. With its intimate, welcoming environment, acclaimed wines and staff who are more like family, this winery is a must for visitors to Sighnaghi.
"Why is the winery called Pheasant's Tears?" is the first question that comes to many people's minds. According to company founder John Wurdeman, there is a legend in Kizikhi of Kakheti Region that only the finest wine can make a pheasant shed tears of joy while drinking it. After hearing this, John felt it would be a creative name for his establishment.
History of Pheasant's Tears
John Wurdeman is an American who has lived in Sighnaghi for over twenty years. A painter from Santa Fe, New Mexico who relocated to Virginia when he was young, John fell in love with Georgian culture when he discovered a CD of Georgian folk music at the age of 15. The more he learned about Georgia, the more he realized what an undiscovered gem it was. The future winemaker wanted to learn more, but there was little information available at the time. Finally, while studying in Moscow, he took advantage of an opportunity to visit Georgia.
While there, Wurdeman was invited to a traditional feast. After the 30th toast, the tamada (host) invited musicians to play the same music which had first captured his attention when he was a teenager, and it was at this moment that Wurdeman realized just how special his relationship with this country would be.
In 1996, John returned to Georgia to conduct research for his thesis in which he aimed to prove that traditions do not stifle creativity but rather protect and inspire it. An avid wine lover, he decided on this topic while at Rtveli, a Georgian grape harvest festival. He went from party to party, drawing sketches and painting a large canvas based on the harvest scenes.
After marrying a Georgian woman in 1999, John pictured himself living a quiet life as a painter in Sighnaghi, a town that the rest of the world seemed to have forgotten. A few years later, however, the Georgian government inadvertently brought the world to him when they renovated the town. In 2007, a young man named Gela Patalashvili drove a tractor next to John's vineyard and said: "I know how much you have done for Georgian folk melodies and chants, but why have you ignored wine? Wine is as important to Georgian culture as polyphonic singing." John was convinced, and together with Gela started producing Georgian wine.
Wine and Cellar
According to John, if you farm grapes with love, good energy and sensitivity they will be naturally transformed. All of the grapes at Pheasant's Tears Winery and Restaurant are farmed organically in the winery's own vineyards. To prevent damage to the grapes during transportation, the owners erected a cellar in the vineyard itself, allowing them to both harvest and press their crop before the heat of the day.
John believes that the natural wine movement is the future of Georgian winemaking and runs his establishment accordingly. All wines at Pheasant's Tears Winery are made in clay vessels that are first soaked with beeswax and buried underground. Traditional qvevri vessels are used for primary and secondary fermentation and for storage before bottling. The qvevri vary in age, with some dating to the mid-19th century. Only natural yeast is used in the wine.
During your visit you can sample a wide range of Pheasant's Tears wines, including experimental cuvee wine which is only produced here. There is also an assortment of natural wines from around the world. Pheasant's Tears offers a variety of wine experiences, from ordering a bottle or glass to a more organized tasting or a food and wine pairing.
When visiting, we recommend you try the following:
Pheasant's Tears Kisi, Kakheti, Georgia
A white wine with a full-color amber skin, it is aromatic with a nice palate of herbs and pear, as well as a bit of tannic firmness.
Pheasant's Tears Saperavi, Kakheti, Georgia
A red wine with an enormously robust, vivid black fruit taste, this wine is dense, intense and tannic.
Pheasant's Tears Rkatsiteli ,Kakheti, Georgia
While drinking this white wine you will catch a taste of apricot and peach. The taste is quite strong and the flavor gripping, peppery and rounded on the palate.
Restaurant
Pheasant's Tears Restaurant is managed by Gia Rokashvili, who goes to the farmer's market each day to purchase ingredients for that day's menu from trusted local farmers. His recipes are based on a simple concept of selecting excellent ingredients to create dishes reflective not of standard restaurant fare but of the meals that Georgians typically eat at home. However, Gia also enjoys cuisines from around the world and likes to vary his cooking, changing the Pheasant's Tears menu according to how he feels on that particular day.
Visit this winery on the following tour: