Kakhetian House Vakirelebi near Sighnaghi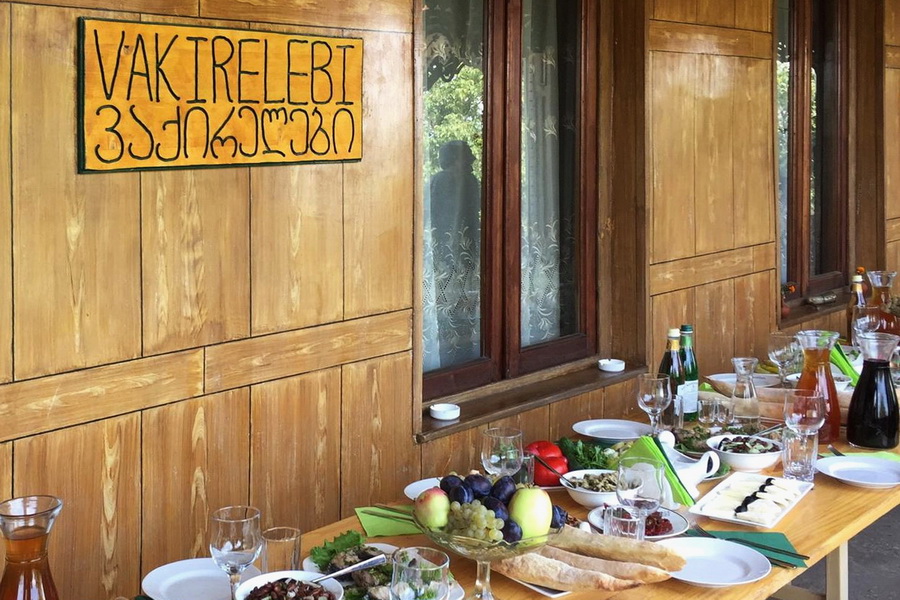 Kakhetian House Vakirelebi is a hidden gem of Georgia whose delicious homemade food and wine and sweet, kind-hearted hosts never fail to charm visitors. The winery is located just 10 kilometers from Sighnaghi in the small Kakhetian village of Vakiri, from which the establishment derived its name. The area is perfect for scenic photographs and the winery itself known for its welcoming owners and mouthwatering menu, of which the eggplant and spinach with walnuts and pork BBQ Kakhetian style are bound to be a highlight!
If you would like to experience sincere Georgian hospitality with a Farm2Table concept, taste organic food grown on a family farm and relax over homemade wine, Kakhetian House Vakirelebi is the place for you.
About the Owners
The Demetrashvili family, the hospitable owners of Kakhetian House Vakirelebi, have been living on the fertile land for four generations. The family loves to receive guests and invites you to join them for a fascinating culinary adventure which is centered around the rural life of a traditional Kakhetian household.
What Vakirelebi Offers
Since opening in May 2017, the winery has hosted people from at least 50 different countries from all around the world. Kakhetian House Vakirelebi now offers the following experiences:
Dining on delicious home-cooked meals which are served on a balcony overlooking the Alazani Valley and the snowy peaks of the Caucasus Mountains;
Activities during Rtveli, a traditional rural harvest festival held annually in the autumn;
Churchkhela masterclasses, where you will learn how to prepare the famous Georgian candy made from natural grape juice and various types of nuts;
Masterclasses for making khinkali (Georgian dumplings), mtsvadi (pork barbeque) and khachapuri (cheese-filled bread);
Wine tastings of homemade organic wine and chacha;
Tastings of homemade jams and juices made from seasonal fruits and berries;
Sampling sessions of Georgian sauces such as tkemali (made with cherry plums and herbs) and ajika (made with hot red peppers, garlic and herbs).
Food and Wine Highlights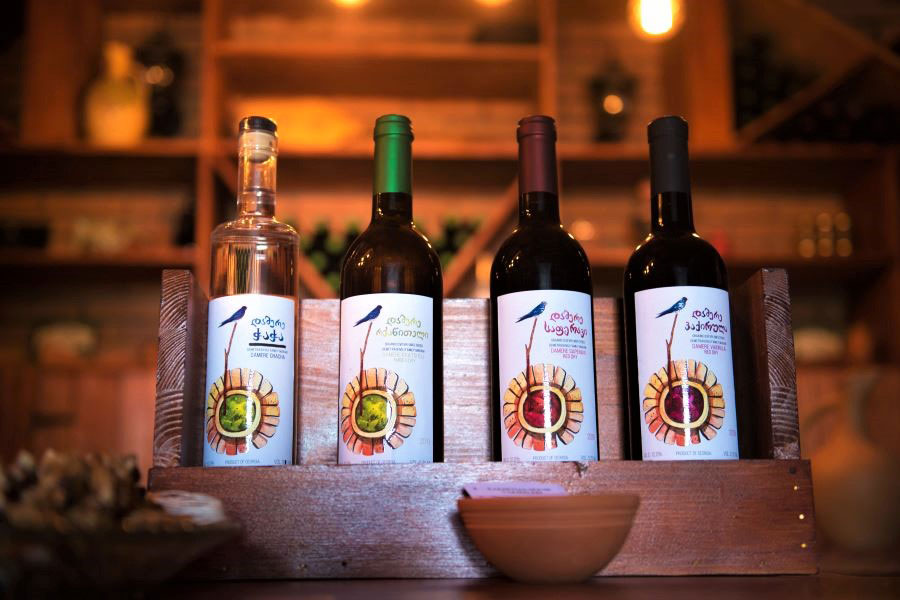 Kakhetian House Vakirelebi produces various wines and chacha, including:
White dry Rkatsiteli bio wine;
Red dry Saperavi bio wine;
Red dry Vakirula bio wine;
Chacha, a Georgian pomace brandy. A clear and strong alcohol, it is sometimes referred to as Georgian vodka.
Culinary highlights at the winery include:
Eggplant and spinach with walnuts;
Cucumber and tomato salad with Kakhetian sunflower oil;
Beetroot with tkemali sauce;
Plates of homemade pickles;
Fresh greens plate;
Fried mushrooms with onions;
Khashlama, a boiled beef dish;
Mtsvadi, a Georgian pork BBQ;
Imeretian Khachapuri, a cheese-filled bread;
Kakhetian bread Shoti baked in a traditional clay oven.
When visiting Kakhetian House Vakirelebi, be sure to come hungry and ready to immerse yourself in the wonderful world of the Georgian countryside!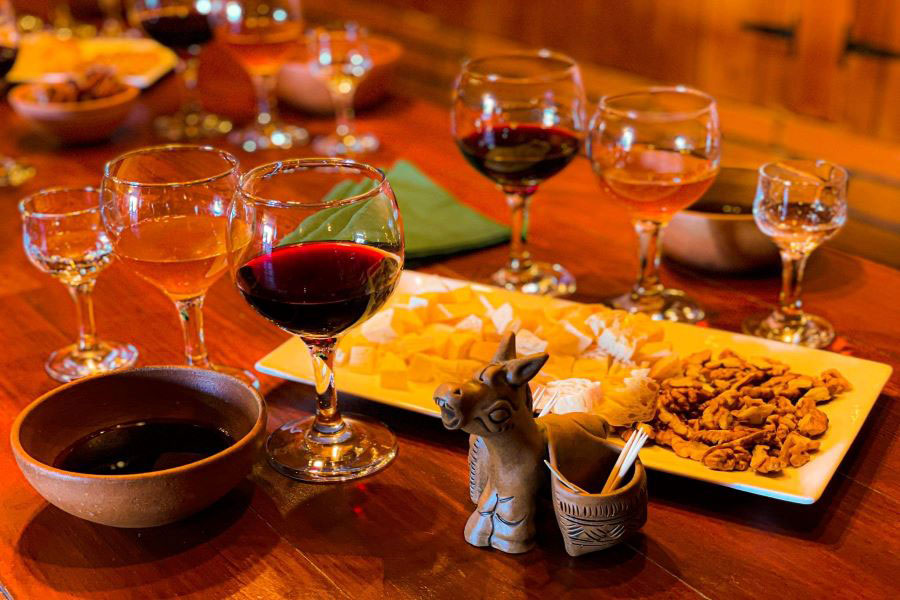 Please note: family wineries often receive visitors only upon prior booking and commonly do not accommodate walk-in travellers. We maintain exclusive relationship with top family wineries in Georgia. With Advantour, you can arrange your wine visit and enjoy a tour with the tasting in the cellar. To book a tour, please contact us here.