Gotsa Winery, Georgia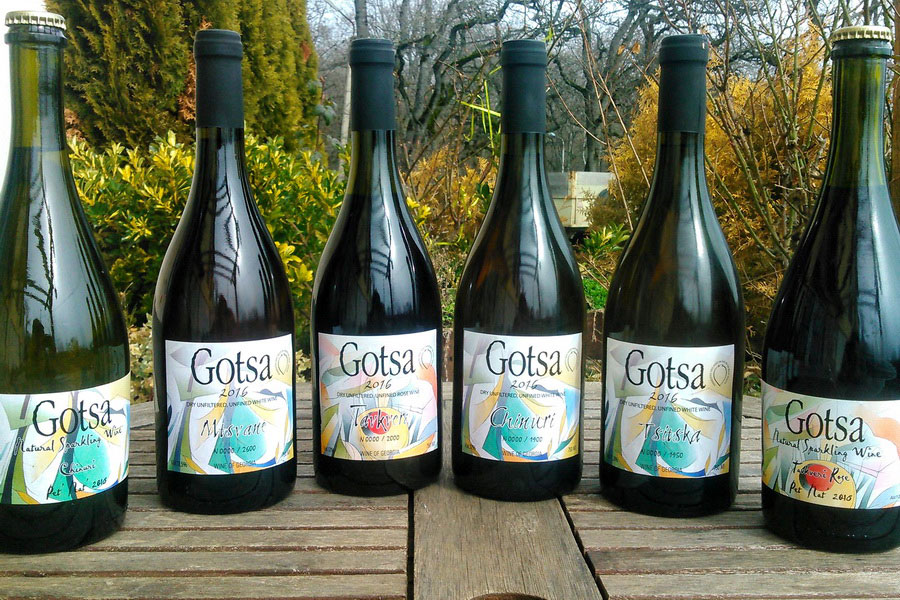 Gotsa Winery is an organic family estate surrounded by a beautiful oak forest in Kiketi, Georgia, located a 40-minute drive from Tbilisi. The winery offers a brilliant array of natural Georgian wines, including red, white and organic amber varieties. The chief winemaker of the Gotsadze family, Beka Gotsadze, is committed to using traditional methods of farming and grape cultivation to ensure that Gotsa wines are as natural and chemical-free as possible. Along with wine, a home-cooked meal awaits you at this winery where the motto is "Come as a guest and leave as a friend!"
History of Gotsa Winery
The Gotsadze family is originally from Tskhratskharo in western Georgia, where their ancestors started to produce wine in the 19th century. In the early 20th century, the family settled near Tbilisi and continued their winemaking traditions. The Gotsadzes began to transport grapes from vineyards in the lower foothills up into the cooler mountain climate to achieve a more delicate fermentation and aging, which brings a unique and distinct taste to Gotsa wines.
Gotsa Winemaking Methods
The Gotsadze family blends traditional winemaking methods with principles of organic wine production. Their wine is made in qvevri, large earthenware vessels which have been used for winemaking in Georgia for centuries due to their ability to maintain a consistent temperature year-round. Not only are qvevri beneficial for preserving wine, they are also the best choice for primary and malolactic fermentation, maceration, micro-oxygenation, natural filtering and tannin and flavor development.
All Gotsa wines are completely free of additives and are produced from grapes which are grown on the family vineyard in Asureti. The winery is equipped with a small laboratory where Beka Gotsadze scrupulously checks the wines' acidity, sugar levels and other parameters.
An unexpected surprise for many at Gotsa Winery is their beer made in qvevri! Beka began producing it as a fun experiment and now makes it regularly. All ingredients used to produce the beer are locally grown, and tasting qvevri beer itself is a truly local experience, "a beer for wine lovers" as Beka puts it.
Gotsa Wines
Gotsa wines are made from the Rkatsiteli, Mtsvane Kakhuri, Khikhvi, Saperavi, Chinuri, Goruli Mtsvane, Kisi, Tsitska, Takveri, and Tsolikouri grape varieties. The red and white qvevri wines produced at Gotsa have a distinct color and hints of almond, walnut and dried apple.
Specialty wines produced at Gotsa Winery include:
~ Gotsa Chinuri 2018 – This organic Georgian amber wine uses Chinuri grapes from Kartli's Asureti Valley. Dry and unfiltered, it is matured in qvevri vessels for 16 months. This wine pairs well with fish and vegetables, especially roasted vegetables.
~ Gotsa Vintage 2018 - This blend of the Rkatsiteli, Mtsvane, and Khikhvi grape varieties is likewise matured for 16 months in qvevri. It is an amber wine with an alcohol content of 14.5% and medium acidity. Georgian amber wines are known for their complex flavors and robust tannic structure, and Gotsa Vintage 2018 is no exception: Dried apricots, melon and eastern spices dominate the aroma of this light amber colored wine.
~ Gotsa Saperavi – A vintage 2016 red wine, Gotsa Saperavi is matured for 20 months in qvevri. Its alcohol content is 12.5%, and it possesses a medium acidity and moderate tannins. Gotsa Saperavi has a deep, almost black hue with intense scents of wild berries and eucalyptus. This wine goes well with red meat and makes an ideal accompaniment to a steak or burger.
Visit to Gotsa Winery
Visitors to Gotsa Winery can sample natural wines prepared with traditional methods while experiencing the Gotsadze family's warm hospitality. Beka Gotsadze himself likes to share the history of Georgian winemaking and important principles of organic winery with his guests. To top it all off, Nino, the wife of Beka, is as talented at cooking as her husband is at winemaking, so you can be sure that a true culinary treat awaits you!
Gotsa Winery attracts not just wine enthusiasts but anyone wishing for a brief escape into scenic nature. In the beautiful forest situated right behind the winery, the Gotsadzes have designated trails which are suitable for short hikes. The family owns a farmhouse where you can feed the animals, and their property even has space for horseback riding. Plan to come for a relaxed visit and enjoy all that Gotsa Winery has to offer!
Please note: family wineries often receive visitors only upon prior booking and commonly do not accommodate walk-in travellers. We maintain exclusive relationship with top family wineries in Georgia. With Advantour, you can arrange your wine visit and enjoy a tour with the tasting in the cellar. To book a tour, please contact us here.