Didgori Winemaking, Georgia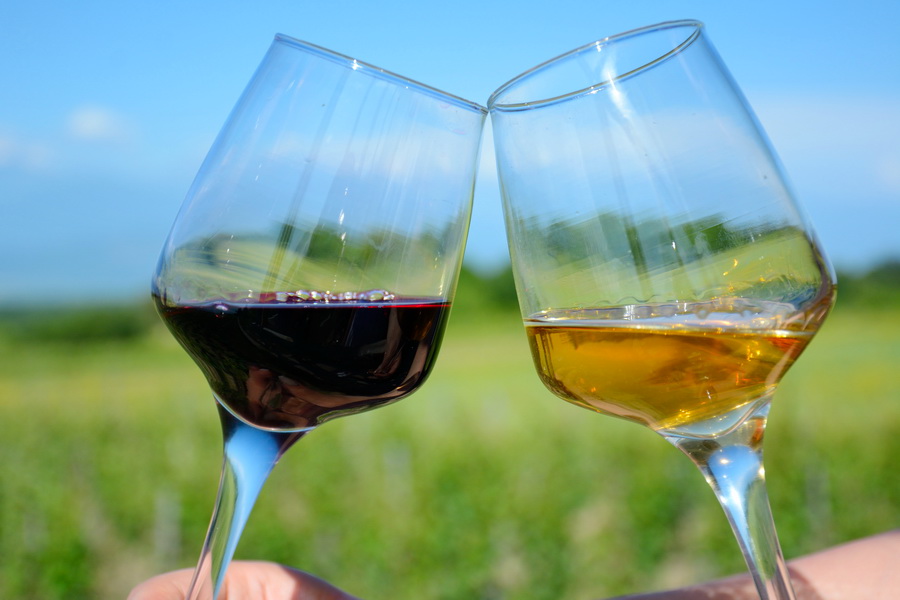 Didgori Winemaking
I do not like old wines. Wine should be drunk young.
~ Giorgi Kipiani, winemaker at Didgori Winemaking
Didgori Winemaking, a family winery run by the young and talented Giorgi Kipiani, stands apart from other wineries in the country of Georgia. Located in Khvanchkara village in the country's far north Racha-Lechkhumi Region, the winery is known for its cultivation of the rare and local Kabistoni grape. Fantastic stories of family winemaking traditions abound, and anyone with an interest in viticulture and Georgian natural wine is sure to enjoy a visit to the Kipiani family at Didgori Winemaking.
History of the Winery
The name "Didgori" was inspired by a Georgian polyphonic singing ensemble of the same name. When Giorgi was starting his wine enterprise in 2014, his friends from Didgori Ensemble provided Giorgi with valuable support, and as a gesture of thanks, Giorgi decided to name the winery after them. Members of the polyphonic group are even depicted on the wine label.
The Giorgi family has inherited a rich tradition of winemaking. Giorgi's great-grandfather belonged to the famous Georgian nobility family Kipiani which produced naturally semi-sweet wine from Aleksandrouli and Mujuretuli grapes. The high-praised wine soon became known as "Kipiani's wine" and was even acclaimed at the 1907 Grand Prix in Ostend, Belgium.
When Georgia entered the Socialist era in 1921, the nobility lost their privileged position in society. The Soviets renamed the wine "Khvanchkara" after the largest village in which the wine was produced, and Khvanchkara was officially recognized as a Protected Designation of Origin (PDO) for naturally red semi-sweet wine. Giorgi's grandfather Gela Kipiani worked for 20 years as director of a famous Khvanchkara wine factory. His son Bejan (Giorgi's father) developed his winemkaing skills by shadowing his father and even learned how to make wine at home. The next generation of winemakers in the Kipiani family is represented by Giorgi, who continues to be supported by his knowledgeable father.
Vineyard and Wine Cellar
Giorgi grows grapes in a vineyard in Khvanchkara and Ambrolauri which spans half a hectare, or just over one acre. As a Georgian natural wine producer, he avoids using pesticides or herbicides when growing the grapes, relies on natural yeasts only and practices little to no intervention at the stages of wine fermentation and maturation. The wine is matured on full skin contact for 6 months, for as Giorgi says: "Musk is a miracle for wine! While in contact with wine in qvevri (wine vessels), it acts as a natural filter. After 6 months of full skin contact, the wine is ready to be bottled with no additional filtration".
Eleven lemon-shaped qvevri clay vessels are used to ferment and age the wine.
The qvevri vessels at Didgori Winemaking are made from mineral-rich clay in Sairme village in the nearby region of Lechkhumi. The oldest of Giorgi's qvevri date back to 1805! When he first discovered the historic qvevri, which had survived for more than 200 years, Giorgi decided to trust the quality of the vessels and began using them to make his own wine. So far, this decision has proved a wise one.
Wine
Didgori Winemaking produces the following natural wines from endemic grape varieties:
White (dry and semi-sweet): Tsolikauri and Tsulukidzes Tetra (also known as Rachuli Tetra)
Rose: Tsolikauri-Mujuretuli
Red (both dry and semi-dry): Kabistoni and Sakipiano from Aleksandrouli and Mujuretuli grapes
Kabistoni wine in particular is a rare find in Georgia. This delicate red dry is a great substitute for those who consider Saperavi to be too strong and tannin-filled and to whom Tavkveri is too light. Giorgi has produced Kabistoni since 2015, but production is limited to less than 100 bottles per year. Giorgi also loves to experiment, and in 2020 he produced his first sparkling wine.
Demand for Georgian natural wine is on the rise in the West, and Didgori Winemaking helps to meet this demand by exporting its wine to the USA, Canada, Japan and the EU.
Visit
On a visit to Didgori Winemaking, guests can learn the intricacies of Georgian winemaking firsthand while surrounded by natural beauty. Giorgi and his father are skillful cooks and wonderful hosts, and a lunch with this family is a true delight. Traditional Racha dishes like shkmeruli chicken, lobio beans and chashushuli stewed veal pair perfectly with the natural wines produced by the Kipiani family.
Please note: family wineries often receive visitors only upon prior booking and commonly do not accommodate walk-in travellers. We maintain exclusive relationship with top family wineries in Georgia. With Advantour, you can arrange your wine visit and enjoy a tour with the tasting in the cellar. To book a tour, please contact us here.