Ruispiri Cellar (Ruispiri Biodynamic Vineyard), Georgia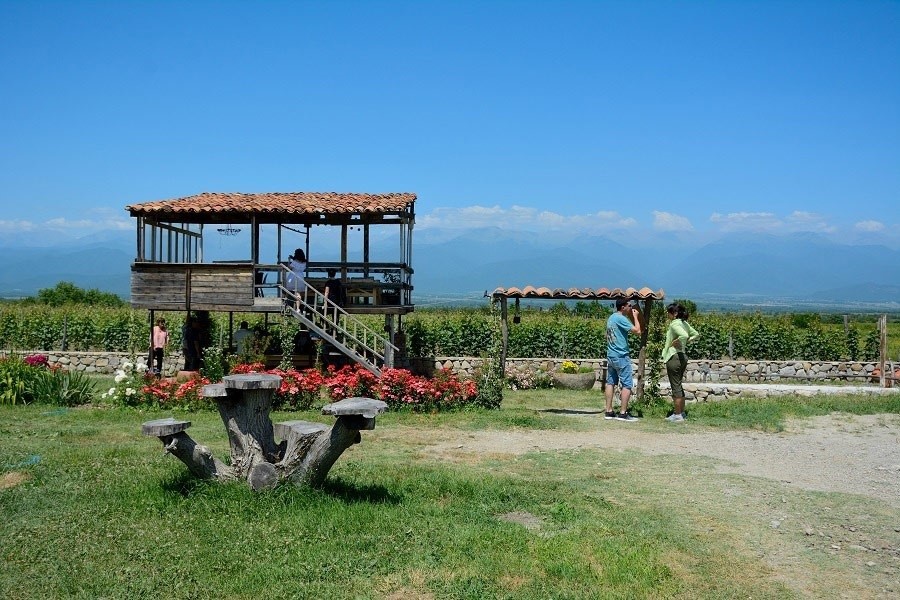 Ruispiri Cellar (Ruispiri Biodynamic Vineyard) is a large countryside winery located in Telavi Municipality of Kakheti Region, Georgia. The warm greetings of the courteous staff will immediately put you at ease, while the tranquil environment, chirping birds and panoramic views of green valleys and snow-capped Caucasus Mountains all serve as reminders of the importance of maintaining a healthy relationship with nature.
Vineyard owner Giorgi Aladashvili believes that this harmony with nature is a key to making excellent wine. Ruispiri Cellar strives to produce the best natural wine possible using only organic and biodynamic processes, with an emphasis on soil health and environmentally-friendly approaches. If you would like to spend time in a beautiful environment and taste bio wines and organic food, Ruispiri Cellar is the place to go!
Ruispiri Vineyard and Cellar
Winemaker Giorgi Aladashvili became inspired to start making wine while living in Switzerland. He was particularly drawn to environmentally-conscious farming businesses that not only taught about biodynamic vineyards in theory but also provided opportunities to gain practical experience. Those farms and the biodynamic technique that Giorgi discovered compelled him to extend his stay in Switzerland and learn more about the subject. After returning to Georgia, Giorgi started developing his own vineyards.
Giorgi believes that making wine without loving the grape will not work, for the vine is a living organism that senses feelings. He is also firm in his belief that we must pass on healthy land to the next generation, and thus neither pesticides nor heavy equipment are used on the premises of Ruispiri Biodynamic Vineyard, where the Rkatsiteli, Kisi, Khikhvi, Ikalto Red, Ruispiri Mtsvane, Simonaseuli, and Janaura grape varieties are all grown.
Giorgi Aladashvili has also retained Georgian winemaking traditions that stretch back 8,000 years, and thus he only uses qvevri (large earthenware vessels) for the fermentation, storage and aging of Georgian wine. The cellar produces around 3500 bottles of wine annually, some of which are exported to Switzerland.
Winery Complex
Apart from the expansive vineyard and cellar, Ruispiri Biodynamic Vineyard includes tasting rooms and cozy lodging quarters. Overnight guests will be treated to a continental or à la carte breakfast served in an open-air setting, and all visitors are welcome to dine in the restaurant which serves traditional Georgian dishes - to be enjoyed, of course, with wine tasting. The hospitality of the knowledgeable owner and staff, the quality of the service and the natural beauty of the site are all highlights for visitors to Ruispiri Cellar.
Interesting Facts
~ Other organic products offered at the winery include vodka, dried fruit and churchkhela (Georgian national snack made of nuts which are beaded on a thread and cooked in flour-thickened grape juice).
~ Giorgi Aladashvili also owns five hectares of land where he plants various crops, including dika wheat, tsiteli doli (red wheat) and shavpkha, which is used in Georgian bread. Giorgi believes that bread and wine are inextricably linked and wants to pass this notion on to visitors.
~ Rusipiri Cellar has a tone (circular clay oven in which Georgians bake bread), where guests can learn how to bake Kakhetian Shoti bread.
Future Plans
In the future, Giorgi Aladashvili plans to introduce the concept of biodynamic winemaking to other winemakers in the area, with the goal of meeting the increase in demand for this product and encouraging others to pass on healthy land to future generations.
Please note: family wineries often receive visitors only upon prior booking and commonly do not accommodate walk-in travellers. We maintain exclusive relationship with top family wineries in Georgia. With Advantour, you can arrange your wine visit and enjoy a tour with the tasting in the cellar. To book a tour, please contact us here.