Okro's Wines, Georgia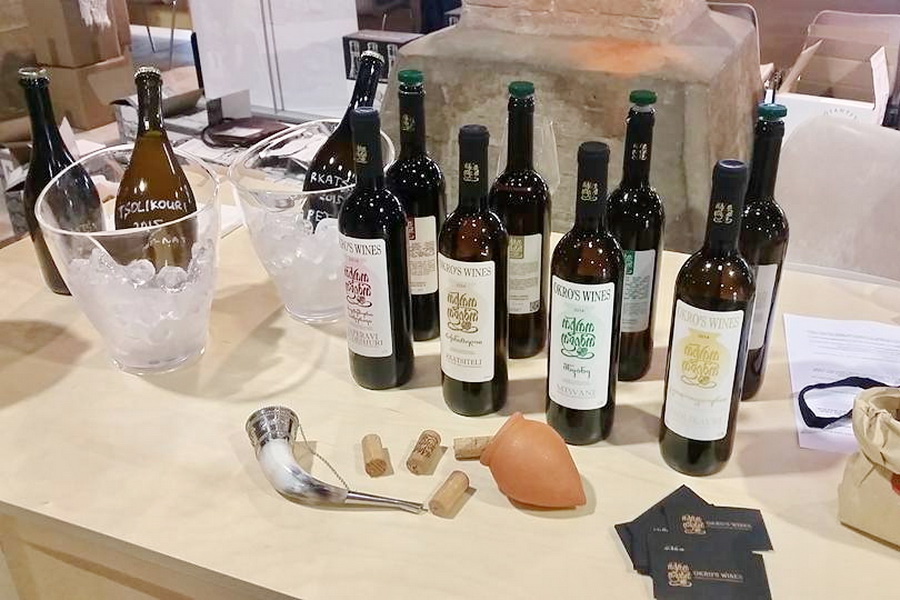 Okro's Wines is located on the ascent to St. Stephan Church in Sighnaghi, Kakheti Region, Georgia. This cozy establishment offers an incredible wine selection and a fantastic terrace setting with sweeping views of Alazani Valley, the Caucasus Mountains and the City of Love. Visitors can soak it all in over lunch or dinner – we recommend their amber wine paired with one of their homecooked meals - or during a tasting session of exquisite Kakhetian wines.
History of Okro's Wines
Okro's Wines was founded by John Okruashvili in 2004, with the goal of making quality natural wine from eastern Georgian grape varieties like Rkatsiteli and Saperavi. Although the name of the winery is associated with the owner's surname, Okruashvili, the word 'okro' also means 'gold' in Georgian.
Wines
All of the grapes at Okro's Wines are grown organically without any chemical additives. The wines are stored in qvevri, large earthenware vessels traditionally used in Georgia for the fermentation, storage and aging of wine. The white and amber wines are made from local grape varieties such as Rkatsiteli, Kakhuri Mtsvane, and Tsolikouri and are all aged in qvevri for one to six months. In addition to wine, Okro's Wines also offers chacha (a.k.a Georgian grappa) and has been producing sparkling wines since 2013.
The total annual capacity of the Kakheti, Georgia winery is 30,000 bottles.
Okro's Wines is especially known for the following:
Rkatsiteli 2018 – Almonds, beeswax and damson plums are prominent tastes of this wine. It is structured and fragrant on the palate, with a hint of acidity and a lengthy, tannic finish. Okro's Wines' Rkatsiteli 18 is produced in qvevri, and because of its distinctive taste it is best paired with eastern Georgian cuisine such as khashlama, a boiled beef dish. Alcohol content: 14.2%.
Kisi 2017 – While drinking this wine you will feel the intense taste of quince and cumin. Kisi 2017 is best paired with a Georgian cheese platter. Alcohol content: 14%.
Tavkveri Rose 2018 – If you are looking for exotic tastes, Tavkveri Rose is the wine for you. The sweet strawberry taste of this lighter wine is sure to entertain your palate. This wine can be paired with soft cheeses and vegetable kebabs. Alcohol content: 12%.
Other prized wines produced at Okro's Wine include Budeshuri Saperavi, which has an alcohol content of 12.5% and pairs well with salad and vegetable dishes, and Pettilant Naturel Wines, a sparkling wine whose primary fermentation begins in qvevri vessels and ends in the bottle.
Sighnaghi is establishing itself as a hub for ecotourism in Georgia, and due to the purity and consistent taste of each wine at Okro's it now welcomes guests from around the world. Les Caves de Pyrene, a pioneer of natural wine and a supplier to many world-famous restaurants, imports Okro's Wines into the UK.
Restaurant
The dishes at Okro's Wines Restaurant are simply mouthwatering. Khashlama (Kakhetian-style veal), Okro's Style (roasted pork with vegetables), Chickirtma (chicken soup), baked mushrooms with cheese and of course, khachapuri cheese bread are just some of the Georgian dishes you can try here. There are also vegetarian options like a traditional Kakhetian-style salad made with tomatoes, cucumbers and sunflower seed oil; roasted eggplant with walnuts; and salad with peppers and greens.
Visit this winery on the following tour: