Archil Guniava Wine Cellar, Georgia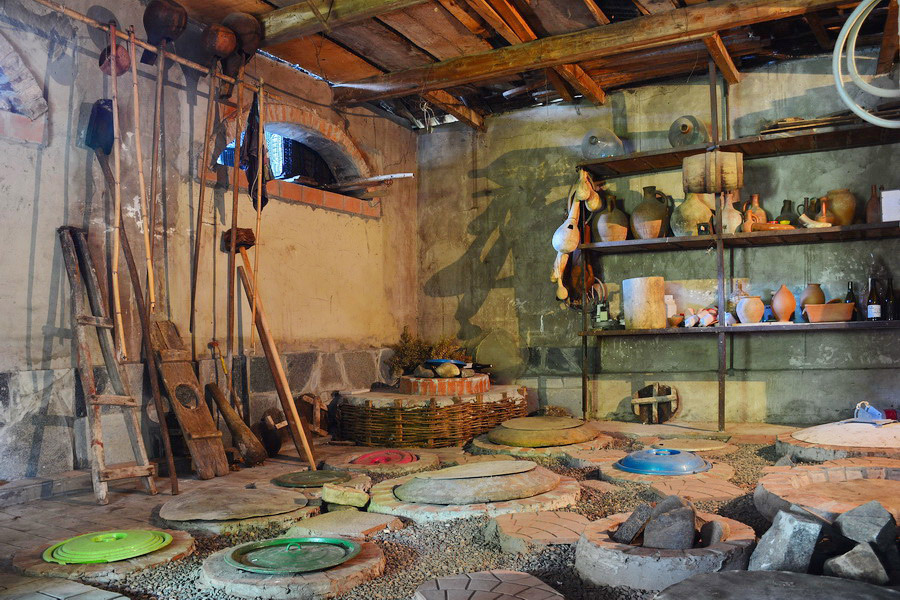 Archil Guniava Wine Cellar, located in western Georgia in the village of Kvaliti near Zestafoni, is as authentic as it gets. Prominent winemaker Archil Guniava comes from a family of winemakers who have been providing area villagers with fine wine for over a century, and he prides himself on producing exclusive natural wines. In 2011 Archil officially registered his business, which today makes around 12,000-13,000 bottles of wine annually. His wines are now sold in the United States, Japan, United Kingdom, Germany, France, Denmark, Israel and Australia.
And just what makes the wines of Archil Guniava Wine Cellar so special? As Archil himself will tell you, the family's natural winemaking business sets itself apart from industrial Georgian wine companies through devotion to tradition and lots of hard work.
Vineyard and Cellar
Archil believes that wine begins in the vineyard. His vines are grown on a 1.5-hectare vineyard at an altitude of 300 meters above sea level, where the soil structure and temperature are excellent for grape cultivation. Tsolikauri, Tsitska, Krakhuna, Otskhanuri Sapere, and Dzelshavi are just some of the traditional Imeretian varieties that he grows. His daughter Nino even discovered and saved the endangered Imeretian Mgaloblishvili black grape variety and concocted a rare Georgian wine brand of the same name.
The family works mostly by hand, avoiding the use of heavy equipment. Archil is also against the use of chemicals, believing that minimal intervention with nature will produce the highest quality products.
The Guniava family cellar used by Archil today was built by his grandfather and is now over a century old. The wine is produced only in qvevri (earthenware vessels used for the fermentation, storage and aging of wine), which were also brought to the family winery 100 years ago. The qvevri vessels in the Guniava cellar today hold a capacity of around 15 tons. In addition to tasting specialty wines and homecooked meals, visitors to Archil Guniava Wine Cellar will have the opportunity to see this old cellar, qvevri vessels and even a century-old wine press.
Wines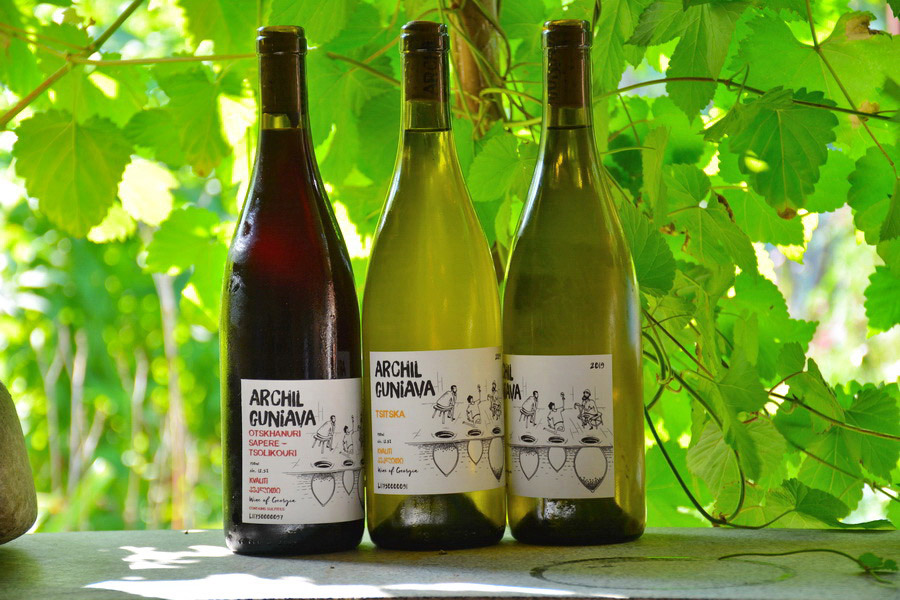 An intuitive winemaking knowledge runs in the Guniava family, for just like the wine produced by his father and grandfather, Archil's wines have an excellent reputation in the region. It doesn't stop there, however, for his daughters Mariam and Nino have also gained a reputation as acclaimed winemakers: Kvaliti Nino's Mgaloblishvili Red is now available in stores, and Mariam Guiava owns her own winery in Kutaisi.
Thanks to their distinctive flavors, Archil's wines are well-liked throughout the world. Some of the most popular wines produced at Archil Guniava Wine Cellar include:
Krakhuna 2019 – This amber dry wine with a savory character contains complex scents of orange zest, apples and peach. The Krakhuna grapes from Archil's vineyard are grown organically, with no additives used to ferment or age the wine. Krakhuna has an alcohol content of 12.5% and pairs well with meat and cheese dishes.
Otskhanuri Sapere - Tsolikouri (Red) – A red wine with an alcohol content of 12% and high tannins and acidity, it is produced from the Otskhanuri Sapere red grape variety with a hint of the Tsolikauri white grape. It is noted for its subtle flavors of forest fruits and various herbs.
2019 Archil Guniava Tsitska-Tsolikouri-Krakhuna – As with Archil's other wines, this wine is made from organically grown grapes with minimal intervention and no chemicals or additives. It has an alcohol content of 13%, a medium amber color and medium tannins. It pairs well with fish, salads and meat.
If you plan to explore Georgia's Imereti Region, we suggest visiting Archil Guniava Wine Cellar to experience flavorful homemade wine, home-cooked meals and the warm hospitality of family!
Please note: family wineries often receive visitors only upon prior booking and commonly do not accommodate walk-in travellers. We maintain exclusive relationship with top family wineries in Georgia. With Advantour, you can arrange your wine visit and enjoy a tour with the tasting in the cellar. To book a tour, please contact us here.