Khareba Winery, Georgia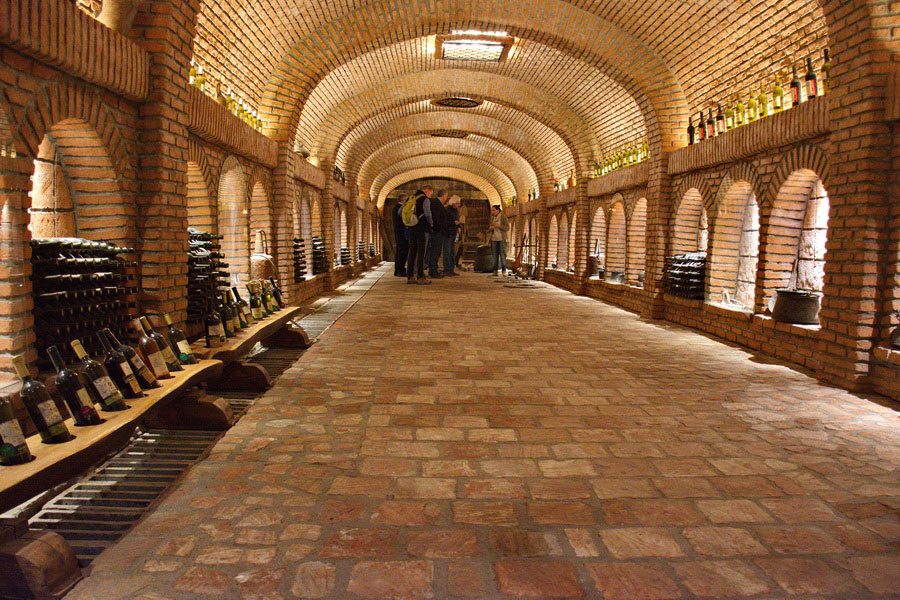 Winery Khareba is a major distributor of wine in the country of Georgia and abroad. Established in 2004, the company owns nearly 1000 hectares of land on which they cultivate around 25 grape varieties which are used to make 50 types of wine, including the popular Tsitska, Krakhuna, Tsolikouri, Mukuzani, Kindzmarauli and Akhasheni varieties.
Winery Khareba has maintained its high-quality products through a unique combination of ancient winemaking methods and modern technology. This harmonization of tried-and-true methods and 21st-century techniques results in unique tastes and quality wines which remain in high demand. Although it has several branches throughout Georgia, the most popular is located in Kakheti Region and attracts tourists with a variety of wine tastings, tours and workshops.
Khareba Wines
A large assortment of red, white, rose and even sparkling wines can be found on the shelves of Khareba Winery. When tasting Khareba wines, you will encounter floral flavors in the young wines and a more subtle, harmonious taste in the aged wines.
To produce red wines, the company mainly uses Saperavi grapes, the leading red variety in Georgia. Primarily grown in Kakheti Region, this unique grape produces a dark, garnet wine with fine aromas and characteristics of wine which has been aged in a barrel.
Winery Khareba uses Rkatsiteli, Mtsvane and Krakhuna grape varieties for their white wines. These grapes make noticeably acidic yet balanced wines which are typically used in Georgia as table wine.
Rose wines offer light, fruity aromas and a lingering sweetness after consumption. The company mainly uses Aladasturi, Saperavi and Otskhanuri Sapere grapes to produce their rose wines. This wine should be served with fruits or cheese and pairs especially well with strawberries and cherries.
Tsitska grapes, one of the oldest white grape varieties in western Georgia, are used to produce the sparkling wines. The classic aging process for champagne results in a high-quality product with a distinguished aroma and floral flavor which is well worth tasting!
In addition to Georgian wines, European varieties such as Merlot, Cabernet, Pino, Muscat, Sauvignon and Chardonnay are also produced at the winery.
Winery Khareba in Kvareli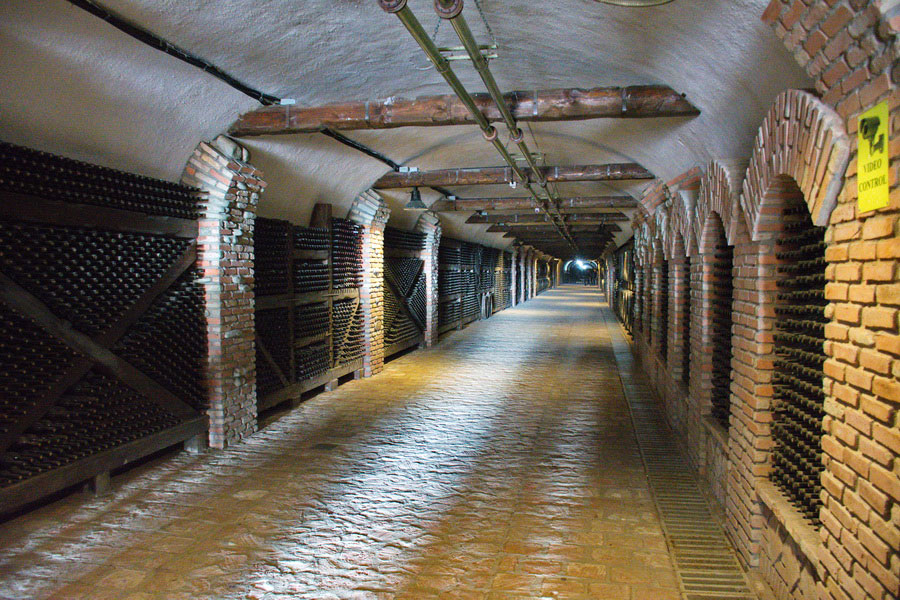 Winery Khareba in Kvareli, located in the Alazani Valley near the Greater Caucasus, is the most prominent branch of the company. The signature establishment of the complex is its tunnel, which opened in the early 1960s for storing wine at a stable temperature. In 2011, the complex was renovated to accommodate tourism, which centers around the Wine Tunnel but also includes Restaurant Khareba, a large recreational park with a river, an old Georgian water mill, a traditional Georgian bakery, a chacha distillery and a historic cellar with winepresses.
Khareba Wine Tunnel is a unique manmade cellar carved from a rocky massif. The tunnel maintains a natural temperature of 12-14 degrees Celsius and 70 percent humidity throughout the year, creating ideal conditions for storing and aging wine. The tunnel has two entrances, one for visitors and one for workers, and measures 7.7 kilometers in length, although only select sections are open to visitors. There is also a bottled wine cellar where more than 25,000 premium bottles are stored.
Khareba Restaurant offers spectacular views of Alazani Valley and the Kvareli vineyards from its verandah. Its extensive menu includes local wines and traditional Georgian dishes such as mtsvadi kebabs, khinkali dumplings and a wide variety of khachapuri cheese breads, including Imeruli, Megruli and oven-baked khachapuri with Sulguni cheese. Khareba Restaurant can accommodate up to 300 guests and is an excellent way to end your tour of the winery.
Winery Khareba Tour Packages
The Kakheti winery offers a variety of tour packages to accommodate a range of visitor preferences:
Wine Tunnel Excursion – A guided tour with no wine tasting;
Standard Package – A tour of the Wine Tunnel and wine tasting of two Georgian varieties;
Classic Package – A tour of the chacha distillery, wine tasting of four types of wine and masterclasses on bread baking in a Georgian clay oven and dipping churchkhela (nuts beaded on a thread and cooked in flour-thickened grape juice);
Georgian National Package – Wine tasting of 4 types of qvevri wine (wine fermented and stored in earthenware vessels) and masterclasses on how to make khinkali (Georgian dumplings), traditional bread, churchkhela, Georgian BBQ (mtsvadi) and national cheese bread (khachapuri);
Premium Package – Wine tasting of six types of wine, plus masterclasses on distilling and tasting chacha, bread baking, dipping churchkhela, making Georgian BBQ and wrapping khinkali dumplings.
Please note that all packages listed above include a guide.
Khareba Wine Shops
Winery Khareba has shops in Batumi, Poti, Terjola, Kazbegi, Mtskheta, Kvareli and Tbilisi. Most of the shops also sell grape seed oil and include a wine bar where customers can taste company wines in a quiet, relaxing atmosphere.
When in Georgia, be sure to taste some of Khareba's fine wines and to pick up a bottle or two for family and friends back home. For those unable to travel to Georgia, Khareba exported wines are sold in more than 20 countries across the globe, including France, Italy, United Kingdom, United States, Turkey, Russia and Japan.
Visit this winery on the following tours: