Ulevari Valley Winery, Georgia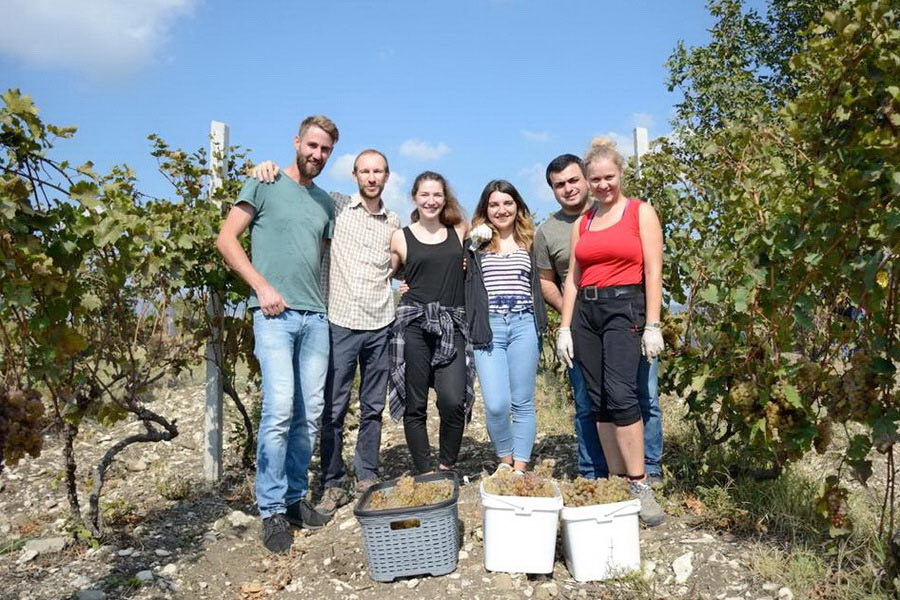 Ulevari Valley Winery is a newly opened family winery located in the Georgian village of Martkopi, within a 40-minute drive from Tbilisi. At Ulevari Valley Winery, visitors can anticipate a relaxing day near Tbilisi. Ulevari Valley Winery offers a selection of different wine experiences, giving you the opportunity to visit the vineyard, and the cellar, and taste a range of different wines and chacha (a.k.a Georgian grappa). To ensure a dedicated and personalized service, the family members will guide the cellar tour themselves.
History of Ulevari Valley Winery
Ulevari Valley Winery was founded by a couple Valeri Pataridze and Irma Guliashvili, with the goal of making quality natural wine from Georgian grape varieties like Rkatsiteli and Saperavi. Irma and Valeri relocated to Markopi from Tbilisi ten years ago to get away from the hustle and bustle of the big city and carry on their grandparents' winemaking tradition. Initially, they produced wine for celebrations and for friends and family. But growing positive feedback and often requests to bring their homemade wine to various events motivated them to make more wine and make it available to everyone looking for authentic tastes. In 2021 they have bottled their first wine. 1200 bottles total, of which 500 were amber wine produced using the Rkatsiteli grape and 700 bottles of red wine from the Saperavi grape type. They also make their own chaha.
Name of Winery
Although the winery's name is associated with the valley where the vineyards are located, the word 'Ulevari' also means 'abundant' in Georgian. The reason why they gave this valley the name Ulavari is that numerous Persian invaders camped there before the famous battle of Martkopi took place here in 1625. The fight was significant in Georgian history because it protected the people of Kartli and Kakheti against Persian invaders. Now vines grow in this historic place. From Ulevari Valley vineyards you can appreciate beautiful Yalno Ridge (1874 m above sea level), a medium-height latitudinal ridge belonging to the Caucasus Mountain range. The family also conducts vineyard excursions so that visitors can take in the breathtaking vistas of the majestic Caucasus Mountain ranges, learn about Martkopi's history, and taste delectable wines as the sun sets.
Wines
Irma and Valeri believe that making good wine starts from loving the grape, for the vine is a living organism that senses feelings. Here they have Rtveli, a dayslong celebration of the grape harvest in the late October, when the whole Eastern Georgia has already finished the grape harvest season. This also gives the wine from this region exquisite taste. If you happen to be in Tbilisi during this period, make sure to participate in this celebration accompanied by a traditional Georgian lunch featuring an array of fresh local products paired with wine at a local winery. The family avoids using chemicals and additives trying to adhere to the principles of natural wine production.
Ulevari Valley Winery Rkatsiteli is an amber wine made from the Rkatsiteli grape variety. For producing amber wine, the family takes grape juice and skins and ferments and macerates it together. The wine has balanced acidity and soft tannins. It has a harmonious taste. Best paired with cheese, vegetables, and fish. Best served at 14-15 °C.
Ulevari Valley Winery Saperavi is a natural red wine produced from the Saperavi grape variety. The wine has a dark ruby color and is characterized by a harmonious velvety taste. Best paired with mutton, cheese, and vegetables. Best served at 14-16 °C.
This place is for wine and food enthusiasts who enjoy the local experience. If you'd like a break from busy city life, head to Ulevari Valley Winery. Apart from a winery, you can also visit Martkopi Gvtaeba Monastery located within a 14 km drive in a lush forest, or Martkopi Nunnery complex located within 5 kilometers drive from the winery. In the beautiful courtyard of the nunnery you will find peace and tranquility. If you have time, enjoy a sunset view from St. George Church, which is visible from almost any point in the village.
Please note: family wineries often receive visitors only upon prior booking and commonly do not accommodate walk-in travellers. We maintain exclusive relationship with top family wineries in Georgia. With Advantour, you can arrange your wine visit and enjoy a tour with the tasting in the cellar. To book a tour, please contact us here.