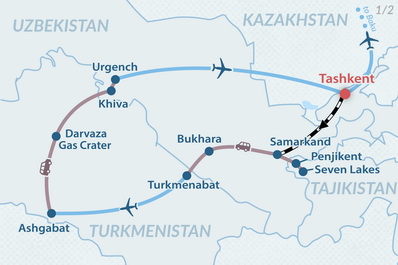 Group size: 1 - 16 persons
Please note that itinerary and price on 2019 tour are subject to change due to airline and train schedule changes, currency fluctuations and other unforeseeable events.
A shorter itinerary doesn't mean that this tour isn't full of the most interesting and important sights of Uzbekistan, Tajikistan and Turkmenistan in Central Asia; Azerbaijan, Georgia and Armenia in South Caucasus. In just 27 days, you'll go from medieval metropolises to vast desert, rich flavors to richer decorations. Uzbekistan is all about the great cities of the Silk Road: Tashkent, Khiva, Bukhara and Samarkand. The grandest monuments of these cities have been preserved, allowing you to walk through the same streets that traders and caravans would have crossed thousands of years ago. Turkmenistan is a land of desert, with oasis cities that flourished as refuges from the intense heat and helped those on long journeys. Kunya-Urgench and Mary, once powerful cities, have long since become ruins, while Ashgabat has risen to become the grand capital of Turkmenistan. Head to Baku next, to immerse yourself in the charm and character of the Caucasus. Enjoy the prehistoric petroglyphs and royal palaces of Azerbaijan, and the mountain churches and warm flavors of Georgia. Both countries are full of multicultural traditions and stunning landscapes, sure to leave you with vivid memories. The Essentials of the Silk Road Tour does more than just take you to these places - you'll get to taste regional dishes, meet with locals, and share your experiences with like-minded travelers from around the world in your group.
Participants need to be in good health, be able to walk for 4-6 hours every day at moderate speed, climb stairs and hills, and be able to carry their own luggage for up to 1 km across borders.
Accommodation:
| | | |
| --- | --- | --- |
| City | Hotels | Nights |
| Tashkent | | 2 |
| Khiva | Malika Kheivak, Orient Star, Qosha Darvoza | 2 |
| Darvaza | Camping | 1 |
| Ashgabat | | 1 |
| Bukhara | | 2 |
| Samarkand | | 3 |
| Baku | | 3 |
| Sheki | | 1 |
| Telavi | Chateau Mere, Royal Batoni, Lopota Lake Resort, Akhasheni Resort | 1 |
| Tbilisi | | 4 |
| Gudauri | Marco Polo, Carpe Diem | 1 |
| Yerevan | DoubleTree by Hilton | 4 |
| Goris | Mirhav, Goris | 1 |
All transfers;
Accommodation based on double/twin room sharing, breakfasts included;
Sightseeing tour program in each country with local English-speaking guides;
Entrance tickets to sights as per itinerary;
Economy class tickets for flights: Tashkent-Urgench, Ashgabat-Mary, Tashkent-Baku;
Economy-class tickets for trains: Bukhara-Samarkand-Tashkent;
Visa support letter for Uzbekistan triple entry visa;
Visa support for Turkmenistan tourist visa;
E-visas to Tajikistan and Azerbaijan;
National folklore show in Bukhara;
Meals: camp style dinner at Darvaza on Day 4, lunch in Penjikent on Day 9, dinner in Tashkent on Day 11, dinner in Baku on Day 12, dinner in Tbilisi on Day 18, farewell dinner in Yerevan on Day 26;
Three wine tastings: two in Kakheti region, Georgia, and one at Areni wine factory, Armenia.
Full board (lunches and dinners);
Hotel charges for additional services;
A tax of 2 US$ per night in Turkmenistan, paid to the hotel upon check out;
Personal travel insurance;
Consular fees for tourist visas and Turkmenistan migration tax (12 US$);
Visa support for Kyrgyzstan, Kazakhstan tourist visas;
E-visas to Georgia, Armenia;
Outbound and inbound flight tickets.