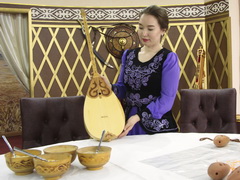 Turn even the shortest trip in Nur-Sultan (Astana) into a deeper discovery with this cultural excursion outside the city. Start by learning how to make traditional Kazakh dishes, and tasting some of the most popular foods. Next, learn how an ancient musical instrument, the sazsyrnay, is made, and then visit a yurt, the home of Kazakh nomads for centuries. Yurts require a large amount of technology to make the wooden walls and dome, and the history and functions of yurts are equally interesting, as well. Finish off your day by trying on traditional clothing and learning Kazakhstan's national dance, "Kara Jorga".
Tour Itinerary:
Our guide and driver will meet you at hotel lobby in Nur-Sultan. By fate, Kazakh people were placed at the crossroad of Eastern and Western cultures, and that is why Kazakhstan is country of rich cultural heritage.
As you know, familiarity with the culture and traditions of a country begins with an introduction to its national cuisine. The same holds for Kazakhstan: there is no better way of understanding the Kazakh traditional culture than a culinary experience, consisting of cooking traditional dishes yourself and get acquainted with the secrets of traditional culinary arts, that you will acquire during this tour.
You will also have unique opportunity to participate in the process of manufacturing of a very ancient Kazakh musical instrument, an authentic value and heritage of the Great Steppe, called sazsyrnay.
Neither of stories about the Great Kazakh steppe and nomadic people do without the yurt - a traditional dwelling of the nomads. Since ancient times methods and secrets of yurt construction, requiring special skills and knowledge passed down from generation to generation. And during this program you will be able personally touch the construction process of wooden walls – 'kerege', the traditional raising of the dome – 'Shanyrak', as well as the strengthening of wooden poles – 'uyk'.
Finally, at the end of the program you will be offered to try on the Kazakh national clothes and dance the national dance "Kara Jorga".
Duration of the tour: 3 hours
Price includes:
All transfers;
Guide service;
Master classes: Kazakh cuisine, manufacturing of sazsyrnay, national dance, construction of the yurt.