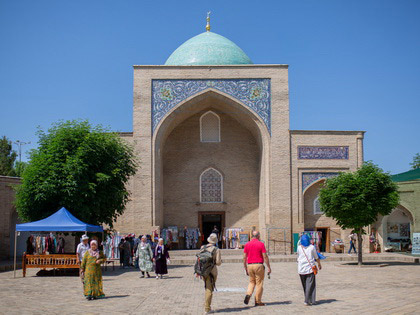 The most detailed and prolonged 24-day tour, the Five Stans tour will take you along the route of the Silk Road and will introduce you the beautiful architecture of cities and the unforgettable beauty of nature. You will dive into the culture and history on the Five Stans tour by visiting Uzbekistan, Kyrgyzstan, Kazakhstan, Tajikistan and Turkmenistan and will learn what has been connecting nations of those countries for centuries.
Spend your first day in Tashkent, before leaving for the crafts centers of the Fergana Valley. Cross the border to Osh, Kyrgyzstan, a quaint little city known through the centuries as a trading center on the Silk Road. Ala-Archa National Park, in the mountains, and Issyk-Kul, a broad alpine lake, show off the natural beauty of Kyrgyzstan. Return to Tashkent via Almaty, Kazakhstan's biggest city, before leaving early in the morning for Khujand. Khujand is a reminder of Tajikistan's cultural and historical heritage, while Dushanbe shows off the country's modern side. Once back in Uzbekistan, start with Termez, a nod to the region's Buddhist history, then get ready for the classic beauties of Samarkand, Bukhara, and Khiva. From Registan Square in the center of Samarkand to Ichan-Kala, the walled city in Khiva, these great cities are sure to leave an unforgettable impression with you. The final destination on this best Central Asia tour is Turkmenistan, with the broad Karakum Desert, the remains of ancient cities, and the modern city of Ashgabat.
This is the most comprehensive and best tour of Central Asia for those that want to explore every corner of this region. From the broad avenues of busy cities to the serene peace of natural sights, Central Asia's best tours show off the diversity and beauty of these countries while also introducing you to the culture and traditions of each place.
All transfers: 1-2 pax on sedan type car, 3-6 pax on minivan/van, 8-13 pax by 20 seat bus;
Accommodation based on double/twin room sharing, breakfasts included;
Sightseeing tour program in each country with local guides (in Uzbekistan, different guides in each city);
Entrance fees to sights as per itinerary;
Economy class tickets for flights Osh-Bishkek, Almaty-Tashkent, Dashoguz-Ashgabat, Ashgabat-Mary-Ashgabat;
Visa support letter for Uzbekistan visa;
Visa support letter for Turkmenistan visa;
Dinner on day 5.
Tour leader to accompany the travellers for the whole period of the tour;
Full board (lunch and dinner);
Hotel charges for additional services;
A tax of 2 USD per night in Turkmenistan, paid to the hotel upon check out;
Consular fees for tourist visas and Turkmenistan migration tax (14 USD);
Visa support for Tajikistan, Kyrgyzstan and Kazakhstan tourist visas;
International flight tickets before and after the tour;
Personal travel insurance.
Accommodation:
Economy Option

Comfort Option

Tashkent - 2 nights
Grand Mir, Sharq, Grand Capital, Bek, Navruz
Miran, Wyndham Tashkent, Grand Mir, City Palace
Fergana - 1 night
Asia Fergana
Asia Fergana
Bishkek - 3 nights
Plaza, Park Hotel, Ambassador or similar
Orion
Issyk-Kul - 1 night
Raduga, The Try Korony or similar
Raduga, The Try Korony or similar
Almaty - 2 nights
Kazzhol
Rixos Almaty
Khujand - 1 night
Khujand Deluxe (mansard room)
Khujand Grand, Khujand Deluxe
Dushanbe - 1 night
Atlas B&B or similar
Hilton or similar
Termez - 2 nights
Meridian
Meridian
Samarkand - 2 nights
City, Platan, Billuri Sitora, Jahongir, Caravan Serail, Malika Classic
Sultan, Grand Samarkand Superior, Grand Samarkand, Platan, Malika Prime, Asia Samarkand
Bukhara - 3 nights
Amulet, Minzifa, As-Salom, K.Komil, Fatima, Bibikhanum, Basilic, Kavsar
Omar Khayam, Devon-Begi, Zargaron Plaza, Asia Bukhara, Minorai-Kalon
Khiva - 2 nights
Malika Kheivak, Orient Star, Malika Khiva, Qosha Darvoza, Old Khiva
Asia Khiva, Bek Khiva
Ashgabat - 3 nights
Ak-Altyn, Grand Turkmen
Nusay, Oguzkent