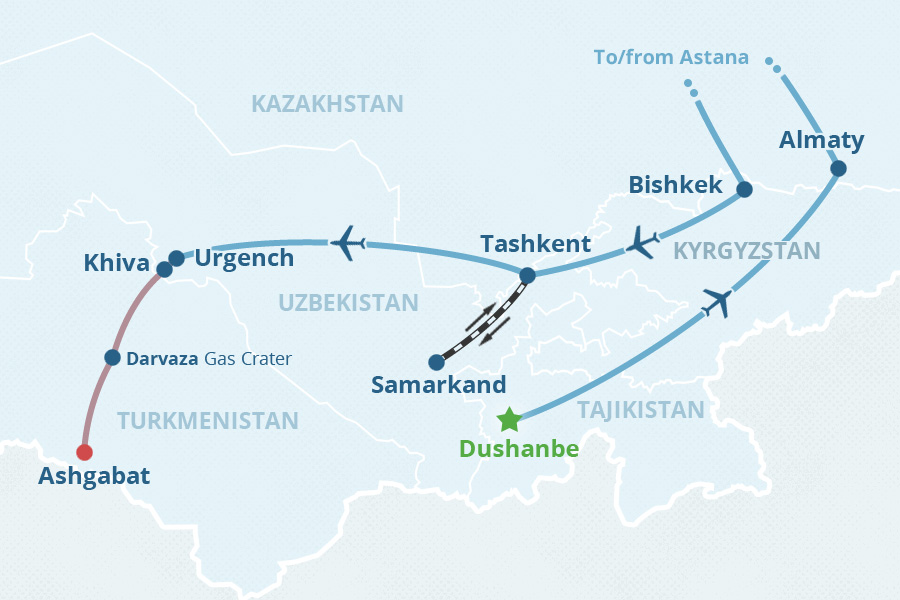 Capital city of any country is a scientific, cultural industrial centre where you find the best. During this 11-day tour you will have a unique chance to visit 5 capital cities of Central Asian countries as well as seeing two former capitals such as Almaty and Samarkand. Some of the cities are already thousand years old and have absorbed the legacy of many generations of rulers, architects, scientists and artists. Others have grown out of smaller settlements into big cities with modern architecture within the last century.
You will visit one of the youngest capital cities of the planet is Astana on the shores of the river Ishim will fascinate you with architect built buildings of the third generation by Norman Foster. In Almaty, the 'Southern Capital' of Kazakhstan, you will see a panoramic view of the city from the Kok-Tobe mountain and picturesque Medeo gorge. You will remember the tour in Dushanbe visiting the Gurminj Museum of the National Musical Instruments and Rudaki Park. Mixture of old and new, ancient and modern are waiting for you in Tashkent, a capital city of Uzbekistan, the major megapolis of Central Asia. You will enjoy the bright colors of the Siab Market in Samarkand where you can buy oriental sweets, fresh fruit and national souvenirs. You will visit Ashgabat, the capital of Turkmenistan that has been recognized by the World Guinness Records for the highest density of white marble buildings in the city.
Within this tour, you will see the past, the present and the future of Central Asia.
We recommend arriving in Dushanbe on Monday in order to match regional flights in the itinerary.
Accommodation:
All transfers: 1-2 pax on sedan type car, 3-8 pax on minivan/van;
Accommodation based on double/twin room sharing, breakfasts included;
Sightseeing tour program in each country with local guides (in Uzbekistan, different guides in each city);
Entrance fees to sights as per itinerary;
Economy class tickets for flights: Dushanbe-Almaty, Almaty-Astana, Astana-Bishkek, Bishkek-Tashkent, Tashkent-Urgench, Dashoguz-Ashgabat;
Business/Economy class ticket for train Tashkent-Samarkand-Tashkent as per option;
Visa support letter for Uzbekistan visa;
Visa support letter for Turkmenistan visa.
Tour leader to accompany the travellers for the whole period of the tour;
Full board (lunches and dinners);
Hotel charges for additional services;
A tax of 2 USD per night, paid to the hotel upon check out;
Consular fees for tourist visas and Turkmenistan migration tax (14 USD);
Visa support for Tajikistan, Kyrgyzstan and Kazakhstan tourist visas;
Personal travel insurance.