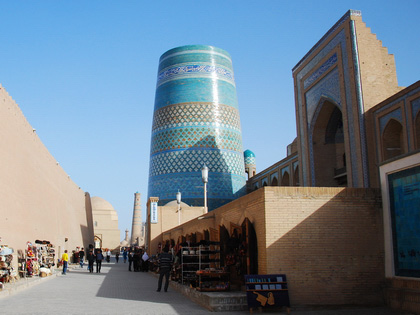 Let Central Asia leave an impression in your memory with this trip to the most entrancing sights of the region. Start with the best sights in Uzbekistan, with a trip from Khiva through Bukhara to Samarkand. Each of these cities has a long and storied past, tying together civilizations that crossed along the Silk Road. The large architectural monuments and historic atmospheres have made these cities excellent inclusions into the UNESCO World Heritage Sites list.
Penjikent, in Tajikistan, is an excellent extension of the historical part of the tour, as the city has lots of historical and cultural significance, while Iskanderkul, as one of the most beautiful lakes in the area, is a must for Central Asia's best tours. Continue on through Dushanbe, Almaty, and Bishkek, which are the three biggest cities in their respective countries (Tajikistan, Kazakhstan and Kyrgyzstan). Don't miss this opportunity to take the best tour of Central Asia and visit all the main sights of the region.
All transfers: 1-2 pax on sedan type car, 3-8 pax on minivan/van;
Accommodation based on double/twin room sharing, breakfasts included;
Sightseeing tour program in each country with local guides (in Uzbekistan, different guides in each city);
Entrance fees to sights as per itinerary;
Visa support for Uzbekistan tourist visas;
Economy class tickets for flights Tashkent-Urgench and Dushanbe-Almaty.
Tour leader to accompany the travellers for the whole period of the tour;
Full board (lunches and dinners);
Hotel charges for additional services;
All costs associated with visas;
Visa support for Kyrgyzstan and Kazakhstan tourist visas;
Personal travel insurance;
Tips are not included, but would be appreciated;
International flight tickets before and after the tour.
Accommodation:
Economy Option

Comfort Option

Tashkent - 1 night
Ateca, Navruz, Praga, Grand Capital
Wyndham Tashkent, Courtyard by Marriot, Hampton by Hilton, Mercure
Khiva - 1 night
Muso Tura, Polvon Qori, New Star, Orient Star or similar
Zarafshan Boutique, Asia Khiva, Erkin Palace, Bek Khiva or similar
Bukhara - 2 nights
Minzifa, K.Komil, Bibikhanum, Amulet, As-Salom, Fatima, Kavsar or similar
Paradise Plaza, Omar Khayam, Minor, Asia Bukhara, Zargaron Plaza or similar
Samarkand - 3 nights
Usman, Meros, Asia Samarkand or similar
Dilimah, Sultan, Grand Samarkand Superior, Grand Samarkand, Platan or similar
Penjikent - 1 night
Sugd, Umariyon
Sugd, Umariyon
Dushanbe - 2 nights
Atlas B&B or similar
Hilton Dushanbe or similar
Almaty - 2 nights
Novotel
Rixos Almaty
Bishkek - 2 nights
Plaza, Park, Ambassador or similar
Orion