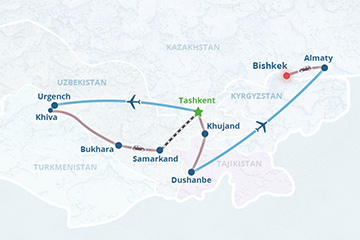 This is involving and full of impressions 15-day tour to Kazakhstan, Kyrgyzstan, Uzbekistan and Tajikistan. Trip to four countries of the region which have common culture and history will give you lots of positive energy.
In Uzbekistan you will discover a unique brick laid mausoleum of the Samanids and unusual domes of Chashma-Ayub Mausoleum in Bukhara. You will be amazed by skillful art of ancient architects who constructed the Ulugbek Observatory and put patterns on the walls of necropolis of Shakhi-Zinda in Samarkand. You will take a walk along the religious part of Tashkent – Khast-Imam complex where you will find the oldest copy of the holy book Kuran of the Khalif Osman (7th century ) and visit Chorsu, the most ancient markets of the city.
In Tajikistan you will have an excursion to Khujand, visit to the fortress of Timur-Malik that was considered as one of the unassailable fortresses in Central Asia but was assaulted by Genghis Khan army; and you will also stopover the mosque and madrasah of Shaikh Muslihiddin, the ruler of Khujand and a poet living in the 12th century. The road to Dushanbe will go along the mountain route through a picturesque pass Anzob (3300 meters above the sea level). There is a very interesting Gurminj Museum of the National Musical Instruments in the capital of Tajikistan and Hissar fortress full of many legends.
In Almaty you will visit a park named after 28 guardsmen of Panfilov, Zenkov Cathedral and Kazakh National Musical Instruments Museum. You will have great opportunity to enjoy the panoramic view from the Kok-Tobe Mountain and visit the Medeo mountain ice rink.
The Kyrgyz Land is full of various historical, cultural and indigenous sighs, among which there are primitive man sites, rock paintings, medieval fortresses, and Alpine lakes. There, you will visit modern Bishkek. You will also see the tower of Burana – a minaret of the 11th century, one of the first constructions of this type in Central Asia.
Thousand years of history, beautiful oriental medieval architecture, unique culture, interesting customs and the most delicious cuisine won't let you to get bored even for a while.
Accommodation:
All transfers: 1-2 pax on sedan type car, 3-8 pax on minivan/van;
Accommodation based on double/twin room sharing, breakfasts included;
Sightseeing tour program in each country with local guides (in Uzbekistan, different guides in each city);
Entrance fees to sights as per itinerary;
Economy class tickets for flights Tashkent-Urgench and Dushanbe-Almaty;
Business/Economy-class ticket for train Samarkand-Tashkent as per option;
Visa support letter for Uzbekistan visa.
Tour leader to accompany the travellers for the whole period of the tour;
Full board (lunch and dinner);
Hotel charges for additional services;
Visa support for Kyrgyzstan and Kazakhstan tourist visas;
Personal travel insurance;
Consular fees for tourist visa.