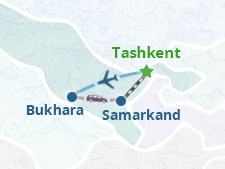 Sufi tour in Uzbekistan will introduce you less touristy, yet very interesting and significant holy sights. You will visit Zangiata mausoleum in Tashkent vicinity, where Muslim holy sheykh Ay-Khodja and his spouse Ambar Bibi, patron of fertility and motherhood, were buried. The mausoleum built as per Amir Temur's order is now a popular pilgrimage destination for people from many countries. In Bukhara you will do the pilgrimage to the holy places of Sufism and pay a visit to the burial places of Seven Sufi Saints, including the mausoleum of Bakhouddin Naqshband, the founder of the Naqshbandi Sufi order. You will remember Samarkand with the necropolis of Shahi-Zinda where the cousin of the Prophet Muhammad is buried. You will also travel to Termez, where you will discover the main holy place of this city - the mausoleum of Al-Hakim at-Termizi, the religious leader, scientist and the founder of the dervish order.
All transfers 1-2 pax by sedan type car; 3-7 pax by minivan type car; 8-13 pax by 20 seat bus, 14 pax and more by 40-50 seat bus;
Accommodation based on double/twin room sharing, breakfasts included;
Sightseeing tour program in each city with local guides;
Entrance tickets to sights as per itinerary;
Economy class ticket for flight Tashkent-Bukhara;
Business/Economy-class ticket for train Samarkand-Tashkent as per option;
Visa support for Uzbekistan tourist visa;
Starting 8 persons English speaking tour leader from Advantour;
Starting 10 persons +1 person travels free of charge accommodated in single room.
Tour leader to accompany the travellers for the whole period of the tour;
Full board (lunches and dinners);
Hotel charges for additional services;
Consular fees for Uzbekistan tourist visa;
Personal travel insurance.
Accommodation:
Comfort Option

Economy Option

Tashkent - 2 nights
Miran, Wyndham Tashkent, City Palace
Ichan Qala, Bek, Sharq, Shodlik, Samir, Gloria
Bukhara - 3 nights
Omar Khayam, Devon-Begi, Zargaron Plaza, Asia Bukhara, Minorai-Kalon
Amulet, Minzifa, As-Salom, K.Komil, Kukeldash, Zargaron, Kavsar, Fatima, Siyavush
Samarkand - 2 nights
Sultan, Grand Samarkand Superior, Grand Samarkand, Platan, Malika Prime, Asia Samarkand
City, Platan, Billuri Sitora, Jahongir, Caravan Serail, Malika Classic