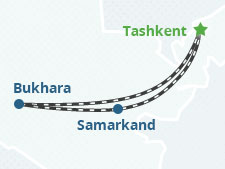 The Uz-3 train tour is unforgettable 3 days of journey to ancient cities of Uzbekistan – Samarkand and Bukhara with an eventful program. During all these 3 days of the tour you will have a feeling as though you have found yourself in an oriental fairy tale. You will visit a holy land of Bukhara, a bulwark of Islam, where the city's primordial history has preserved in the mosques, minarets and madrasahs covered with dust of eternity. You will also enjoy the grandeur and splendor of famous Samarkand whose stunning architectural ensembles attract attention of travelers from all over the world.
At 07:00 transfer from your hotel to railway station. The high-speed train ,
Afrosiyob
, departs Tashkent at 08:00 and arrives in Samarkand at 10:10 (300 km). Your guide and driver will meet you at train station to begin the city tour in
Samarkand
. Visit spectacular
Registan Square
, remains of
Bibi-Khanum Mosque
,
Siab Bazaar
,
Ulugbek Observatory
,
Shakhi-Zinda Necropolis
and
Gur-Emir Mausoleum
– the mausoleum of Amir Timur. Overnight at the hotel.
Duration of sightseeing tour: 6-7 hours
In the morning at 08:45 transfer from the hotel to railway station. Take Afrosiyob train departing to
Bukhara
at 09:43 (270 km). Arrival at 11:17. Meet your guide and driver and visit
Sitorai Mokhi-Khosa
– the summer residence of Bukhara's last emir, unique site combining Oriental and Russian architecture. Continue to the Mausoleum of
Bakhouddin Naqshbandi
. Transfer to hotel in Bukhara. Check in and enjoy free time. Overnight at the hotel.
Duration of sightseeing tour: 1-2 hours
Check-out from the hotel till noon. Enjoy a walking sightseeing tour with a guide in Old City. Visit
Lyabi-Khauz Ensemble
,
Magoki-Attori Mosque
,
Chor-Minor Madrasah
,
trade domes
,
Kalyan Minaret
,
Kalyan Mosque
,
Miri-Arab Madrasah
,
Ulugbek
and
Abdulazizkhan
madrasahs,
Ark Fortress
,
Bolo-Khauz Mosque
,
Ismail Samani
and
Chashma-Ayub
mausoleums. Free time in the afternoon. In the evening flight to Tashkent, (605 km, 1 h 45 min). On arrival, transfer to your hotel/place. End of the tour.
Duration of sightseeing tour: 6-7 hours
All transfers: 1-2 pax by sedan type car; 3-7 pax by minivan type car; 8-13 pax by 30 seat bus, 14 pax and more by 40-50 seat bus;
Accommodation based on double/twin room sharing, breakfasts included;
Sightseeing tour program in each city with local guides;
Entrance tickets to sights as per itinerary;
Business/Economy-class ticket for train Tashkent-Samarkand-Bukhara as per option (on rare occasions when the high-speed train is unavailable, we will replace this with the most-comfortable class of regular train);
Economy class ticket for flight Bukhara-Tashkent;
Visa support letter for Uzbekistan visa.
Tour leader to accompany the travellers for the whole period of the tour;
Full board (lunches and dinners);
Hotel charges for additional services;
Consular fees for Uzbekistan tourist visa;
Tips are not included, but would be appreciated;
Travel insurance.
Accommodation:
Economy Option

Comfort Option

Samarkand - 1 night
Platan, Meros, Orient Star, Malika Prime, Rabat, City
Dilimah, Sultan, Grand Samarkand Superior A, Grand Samarkand Superior B, Platan, Alexander, Minor, Malika Prime, Asia Samarkand
Bukhara - 1 night
Amulet, Minzifa, As-Salom, Shohrud, Fatima, Bibikhanum, Volida, Kukeldash, K.Komil, Basilic
Omar Khayam, Minorai-Kalon , Devon-Begi, Zargaron Plaza, Asia Bukhara