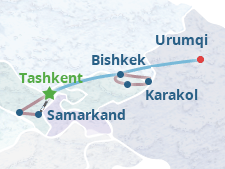 Silk Road tour will take you to the snow-capped mountains, blossoming valleys and ancient cities of Uzbekistan, Kyrgyzstan and China. The tour program includes visiting Tashkent, Samarkand and Bukhara – biggest historical centers of Uzbekistan. Next stage of the tour passes through Bishkek, villages and gorges on the shores of the well-known Lake Issyk-Kul, overcoming high-mountain passes connecting picturesque river valleys of Kyrgyzstan. The Chinese part of the tour consists of only a visit to an ancient city of Kashgar, but here you will see many sights. Such a diverse trip will stay with you for a long time and will be one of the brightest events of the year.
Accommodation:
City

Deluxe option

Budget Option

Tashkent

Bukhara

Omar Khayam, Devon-Begi, Zargaron Plaza, Asia Bukhara, Minorai-Kalon

Amulet, Minzifa, As-Salom, K.Komil, Kukeldash, Zargaron, Kavsar, Fatima, Siyavush

Samarkand

Sultan, Grand Samarkand Superior, Grand Samarkand, Platan, Malika Prime, Asia Samarkand

City, Platan, Billuri Sitora, Jahongir, Caravan Serail, Malika Classic

Bishkek

Park Hotel, Ambassador, Smart or similar
Park Hotel, Ambassador, Smart or similar

Karakol

Green Yard Hotel 3*or similar

Home stay (B&B)

Urumqi

Quanji Hotel
All transfers;
Accommodation based on double room sharing, breakfasts included;
Sightseeing tour program in each city with local guides;
Entrance tickets to sights as per itinerary;
Economy class ticket for flight Tashkent-Bukhara;
Business/Economy-class ticket for train Samarkand-Tashkent as per option;
Visa support for Uzbekistan tourist visa;
Meals – as stated as program;
Mineral water
Eagle hunting show;
Flight ticket Bishkek – Urumqi (economic class).
Hotel charges for additional services;
Consular fees for tourist visa;
Travel insurance;
Single supplement;
Consular fees;
Visa support;
Photography and video making fees;
Registration (if required);
Payment for early check in (except for Day 5) and late check out (check in time is at 13-14.00, check out time is at 12.00);
Alcohol drinks;
International flight tickets before and after the tour.