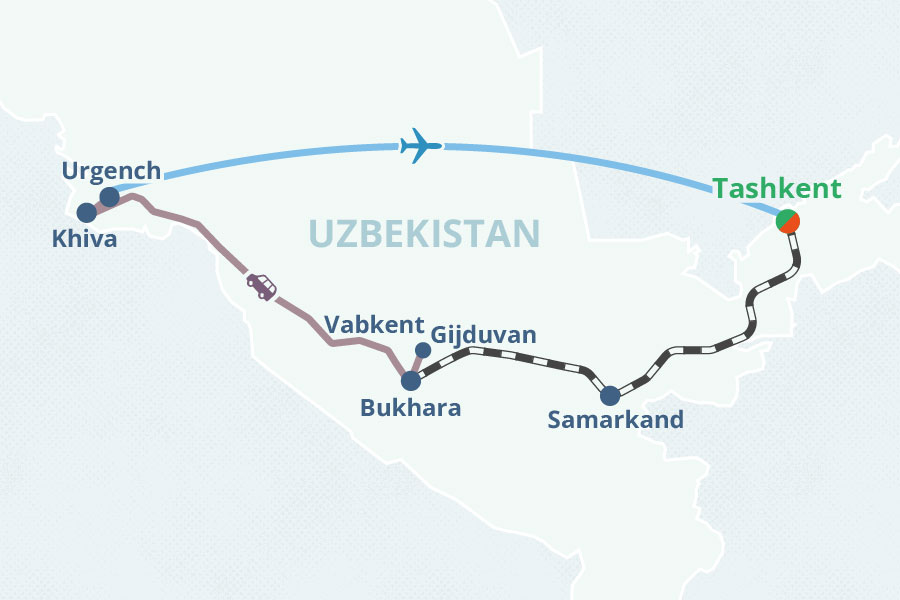 If you haven't tried Uzbek cuisine yet, rather go to Uzbekistan Food Tour from UK! You will have 10 days of travel to the regions of the country, where the same dish is prepared according to different recipes, with different spices. You will participate in several master classes where you will learn how to cook dishes such as pilaf, shurpa, nuhat-shurak, tuhum-barak. In this delicious journey there will be first courses, second courses, various desserts, and much more. Therefore, it is better to take medicine with you for better digestion. And in order to work up a good appetite, on this tour almost every day you will also have excellent excursions to the medieval monuments of Samarkand, Bukhara and Khiva.
All transfers by sedan type car (1-2 pax), by minivan (3-5 pax) ;
Accommodation based on double/twin room sharing, breakfasts included;
Sightseeing tour program in each city with local guides;
Entrance tickets to sights as per itinerary;
Tickets for trains Tashkent-Samarkand-Bukhara;
Economy class ticket for flight Urgench-Tashkent;
Meals: lunch in Tashkent on Day 1, wine degustation in Samarkand on Day 2, lunch in Samarkand on Day 3, lunch in Gijduvan on Day 4, dinner in Bukhara on Day 5, lunch and dinner at Vabkent village on Day 6, dinner in Khiva on Day 8, lunch in Tashkent on Day 9;
Cooking master classes: in Samarkand on Day 3, in Gijduvan on Day 4, in Bukhara on Day 5, at Vabkent on Day 6, in Khiva on Day 8.
Tour leader to accompany the travellers for the whole period of the tour;
Hotel charges for additional services;
Travel insurance;
Tips are not included, but would be appreciated.
Accommodation:
Economy Option

Comfort Option

Deluxe Option

Tashkent - 2 nights
Ateca, Navruz, Moderno, Praga, Milan
Hampton by Hilton, Wyndham Tashkent, Courtyard by Marriot, Panarams
Hyatt Regency, Hilton
Samarkand - 2 nights
Gur Emir Palace, Jahongir Premium, Silk Road Empire, Bibikhanum, City, Asia Samarkand, Usman
East Star, Zarafshon Parkside, Dilimah, Royal, Medina, Sultan, Platan
Movenpick, Hilton Garden Inn
Bukhara - 3 nights
Minzifa, As-Salom, Bibikhanum, K.Komil, Fatima, Amulet, Lyabi House, Sasha & Son, Kavsar
Paradise Plaza, Omar Khayam, Asia Bukhara, Minorai-Kalon
Mercure Old Town Bukhara, Shakhristan, Wyndham
Khiva - 2 nights
Zarafshon Boutique, Erkin Palace, Orient Star, Muso Tura
Zarafshon Boutique, Asia Khiva, Orient Star, Erkin Palace
Faravon