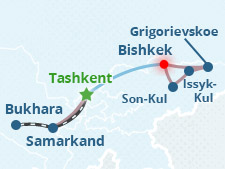 The tour is available from mid-June until mid-September.
You will see the specifics of Kyrgyzstan and Uzbekistan and get to know where they are identical, and where different. In the first part of the 12-day tour you will visit Uzbekistan's ancient cities: Tashkent, Bukhara and Samarkand, once being prosperous centers of trade on the Great Silk Road. There, you will visit the well-known tourist places, admire the beauty of old-time architectural monuments, visit famous oriental bazaars and enjoy Uzbek hospitality and cordiality. In the second part of the tour you will have a trip to Kyrgyzstan, called by travelers as early as the antiquity - the Country of Blue Heavens. In the course of the exciting program you will visit the worlds' second largest salt Issyk-Kul Lake, whose water does not freeze even in winter, though it is located at the height of 1,609 m and surrounded with snowy mountain peaks.
All transfers: 1-2 pax by sedan type car; 3-7 pax by minivan type car; 8-13 pax by 20 seat bus, 14 pax and more by 40-50 seat bus;
Accommodation based on double/twin room sharing, breakfasts included;
Guided sightseeing tour program, in Uzbekistan local guides in each city;
Entrance tickets to sights as per itinerary;
Economy class ticket for flights Tashkent-Bukhara, Tashkent-Bishkek;
English speaking tour leader to accompany the group (except for the day 12 – transfer to the airport) in Kyrgyzstan;
Starting 8 persons English speaking tour leader from Advantour in Uzbekistan;
Starting 10 persons +1 person travels free of charge accommodated in single room;
Visit to felt carpet workshop in Kochkor;
Visa support letter for Uzbekistan visa.
Tour leader to accompany the travellers for the whole period of the tour in Uzbekistan (1-7pax);
Hotel charges for additional services;
Full board (lunches and dinners);
Visa support for Kyrgyzstan tourist visa;
Consular fees for Kyrgyzstan and Uzbekistan tourist visas;
Horses in Son Kul;
Registration in Kyrgyzstan (20$);
Travel insurance.
Accommodation:
Economy Option

Comfort Option

Tashkent - 1 night
Ichan Qala, Bek, Sharq, Shodlik, Samir, Gloria
Miran, Wyndham Tashkent, City Palace
Bukhara - 2 nights
Amulet, Minzifa, As-Salom, K.Komil, Fatima, Bibi-Khanym, Kavsar, Kukeldash, Zargaron, Siyavush
Omar Khayam, Devon-Begi, Zargaron Plaza, Asia Bukhara, Minorai-Kalon
Samarkand - 2 nights
City, Platan, Billuri Sitora, Jahongir, Caravan Serail, Malika Classic
Sultan, Grand Samarkand Superior, Grand Samarkand, Platan, Malika Prime, Asia Samarkand
Bishkek - 3 nights
Asia Mountains 2, Garden, Futuro or similar
Park Hotel, Ambassador, Smart or similar
Issyk-Kul - 1 night
Raduga, Raduga West or similar
Raduga, Raduga West or similar
Son-Kul - 2 nights
Yurt (5-6 people in one yurt)
Yurt (5-6 people in one yurt)