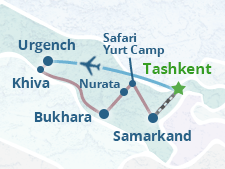 Plunge into the world of Eastern exotics, by visiting 5 ancient cities by the eventful Ten-Day Cultural Uzbekistan Tour: Uz-6. Tashkent, Khiva, Bukhara, Nurata, Samarkand will narrate you about the centuries-old history, rich of traditions, local picturesque way of life. As part of the tour you will familiarize with the architectural varieties of these cities, which saw rises and falls of powerful empires. The program includes: a camel riding in a baking-hot desert, supper by the fire listening to a Kazakh akyn (folk singer), participation in a pottery master-class, interesting excursions and of course, national cuisine the Uzbeks are proud of.
All transfers 1-2 pax by sedan type car; 3-7 pax by minivan type car; 8-13 pax by 30 seat bus, 14 pax and more by 40-50 seat bus;
Accommodation based on double/twin room sharing, breakfasts included;
Sightseeing tour program in each city with local guides;
Entrance tickets to sights as per itinerary;
Economy class ticket for flight Tashkent-Urgench;
Business/Economy-class ticket for train Samarkand-Tashkent as per option (on rare occasions when the high-speed train is unavailable, we will replace this with the most-comfortable class of regular train);
Visa support letter for Uzbekistan visa;
Starting 8 persons English speaking tour leader from Advantour;
Starting 10 persons +1 person travels free of charge accommodated in single room.
Tour leader to accompany the travellers for the whole period of the tour;
Full board (lunches and dinners);
Hotel charges for additional services;
Consular fees for Uzbekistan tourist visa;
Travel insurance.
Accommodation:
Economy Option

Comfort Option

Tashkent - 2 nights
Grand Mir, Sharq, Grand Capital, Bek, Navruz
Miran, Wyndham Tashkent, Grand Mir, City Palace
Khiva - 1 night
Malika Kheivak, Orient Star, Malika Khiva, Qosha Darvoza, Old Khiva
Asia Khiva, Bek Khiva
Bukhara - 3 nights
Amulet, Minzifa, As-Salom, K.Komil, Fatima, Bibikhanum, Basilic, Kavsar
Omar Khayam, Devon-Begi, Zargaron Plaza, Asia Bukhara, Minorai-Kalon
Aydarkul - 1 night
Safari Yurt Camp, Aidar Yurt Camp (in a shared yurt)
Safari Yurt Camp, Aidar Yurt Camp (in a shared yurt)
Samarkand - 2 nights
City, Platan, Billuri Sitora, Jahongir, Caravan Serail, Malika Classic
Sultan, Grand Samarkand Superior, Grand Samarkand, Platan, Malika Prime, Asia Samarkand