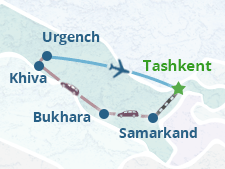 Discover delicious Uzbekistan with an unforgettable gourmet tour that will delight your taste buds and significantly expand the horizons of your knowledge on mysterious East. Uzbekistan food tour will reveal many secrets of local cuisine; you will learn how to cook signature Uzbek dishes: Patir Non (Uzbek bread), nourishing and yummy pilaf, succulent shurpa. etc. An immodest choice of Uzbek street food at the eastern bazaar calls you to choose from shashlik (barbecue), lagman (noodle soup with vegetable and meat topping), shurpa (soup with big chanks of vegetables and red meat), samosa (stuffed puff pastry), hanum (rolled dough with shredded potatoes). Treat yourself to juicy fruits, nuts, spices, sweets and many more that bazaar strolls call with.
Your journey is not limited to a culinary splendor only. During the tour you will explore the main sights of Tashkent, Samarkand, Bukhara and Khiva.
All transfers 1-2 pax by sedan type car; 3-7 pax by minivan type car; 8-13 pax by 20 seat bus, 14 pax and more by 40-50 seat bus;
Accommodation based on double/twin room sharing, breakfasts included;
Sightseeing tour program in each city with local guides;
Entrance tickets to sightsas per itinerary;
Business/Economy-class ticket for train Tashkent-Samarkand;
Economy class ticket for flight Urgench-Tashkent;
Visa support for Uzbekistan tourist visa;
Full board and master classes as per itinerary;
Wine degustation in Samarkand;
Folklore show at Madrasah Nodir Devan Begi in Bukhara.
Tour leader to accompany the travellers for the whole period of the tour;
Hotel charges for additional services;
Consular fees for Uzbekistan tourist visa;
Travel insurance.
Accommodation:
Comfort Option

Economy Option

Tashkent - 2 nights
Miran, Wyndham Tashkent, City Palace
Ichan Qala, Bek, Sharq, Shodlik, Samir, Gloria
Samarkand - 2 nights
Sultan, Grand Samarkand Superior, Grand Samarkand, Platan, Malika Prime, Asia Samarkand
City, Platan, Billuri Sitora, Jahongir, Caravan Serail, Malika Classic
Bukhara - 2 nights
Omar Khayam, Devon-Begi, Zargaron Plaza, Asia Bukhara, Minorai-Kalon
Amulet, Minzifa, As-Salom, K.Komil, Kukeldash, Zargaron, Kavsar, Fatima, Siyavush
Khiva - 1 night
Asia Khiva, Bek Khiva
Malika Kheivak, Orient Star, Malika Khiva, Old Khiva