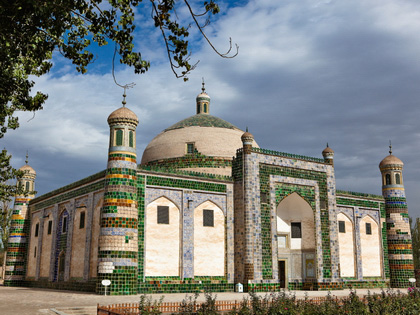 During the 19-day Silk Road tour, you will discover six countries of the Great Silk Road. In Turkmenistan, you will visit Ashgabat, Mary, Merv and enjoy the beauty of the Karakum Desert. Uzbekistan will present three gems of the East: Samarkand, Bukhara and Tashkent. Tajikistan will open up splendid mountain passes and cultural sights. The Charyn Canyon in Kazakhstan and cliffs resembling towers create vivid memories. Kyrgyzstan is famous for its gorges, lakes and other natural beauties, plus take time to explore the ancient traditions of carpet making and eagle hunting. The highlight of the tour is China. Plunge into the multi-ethnic atmosphere and buy some souvenirs at the Sunday market in Kashgar. Leave Central Asia with memories to last a lifetime.
Important notes for all travelers:
Please bring only cash USD for your local expenses in Turkmenistan, no EURO and no credit cards.
Please be aware that a member of staff of our agency will need to take your original passport for several hours for registration.
There may be various different cars and drivers during your trip through Turkmenistan, depending on the section of the route.
Chinese visa should be obtained in advance, in the country of citizenship.
Twin room accommodation;
Meals – as stated as program;
Transportation throughout the whole trip;
English speaking guide (except for day 19 – transfer to the airport);
Sightseeing tour program in all cities according to the program, including entrance fees to sights, museums. Camera/video fees are not included and must be paid separately;
Mineral water;
Felt carpet workshop in Kochkor;
Eagle hunting show in Bokonbaevo;
Economy class air ticket Kashgar-Urumqi;
Economy class air ticket Dushanbe-Almaty;
Business/Economy-class ticket for train Samarkand-Tashkent as per option (on rare occasions when the high-speed train is unavailable, we will replace this with the most-comfortable class of regular train);
Economy class air ticket Ashgabat-Mary;
Visa support letter for Uzbekistan visa;
Visa support for Turkmenistan visa.
Hotel charges for additional services;
A tax of 2 USD per night in Turkmenistan, paid to the hotel upon check out;
Single supplement;
Visa fees to all countries;
Visa support for Kyrgyzstan, Tajikistan, Kazakhstan and China;
Registration (if required);
Payment for early check in and late check out (check in time is at 13-14.00, check out time is at 12.00);
International flight tickets before and after the tour;
Horse riding;
Turkmenistan visa 85+2 USD per person, when obtained at Ashgabat Airport (subject to change);
Turkmenistan migration tax 10+2 USD per person, to be paid at Ashgabat Airport (subject to change);
Tourist fee per night, charged in the hotels at departure 2 USD per person per night (obligatory);
Full board, alcohol and soft drinks;
Tips are not included, but would be appreciated;
Personal insurance and items not mentioned above.
Accommodation:
Economy Option

Comfort Option

Ashgabat - 2 nights
Sport, Ak-Altyn, Grand Turkmen
Archabil
Turkmenabat - 1 night
Jeyhun
Jeyhun
Bukhara - 2 nights
Minzifa, K.Komil, Bibikhanum, Amulet, As-Salom, Fatima, Kavsar or similar
Paradise Plaza, Omar Khayam, Minor, Asia Bukhara, Zargaron Plaza or similar
Samarkand - 1 night
Usman, Meros, Asia Samarkand or similar
Dilimah, Sultan, Grand Samarkand Superior, Grand Samarkand, Platan or similar
Tashkent - 1 night
Ateca, Navruz, Praga, Grand Capital
Wyndham Tashkent, Courtyard by Marriot, Hampton by Hilton, Mercure
Khujand - 1 night
Khujand Deluxe (mansard room)
Khujand Grand, Khujand Deluxe
Dushanbe - 1 night
Atlas B&B or similar
Hilton Dushanbe or similar
Almaty - 2 nights
Kazzhol Park, Garden Park, Mercure
Rixos Almaty
Karakol - 1 night
Home stay (B&B)
Green Yard or similar
Kochkor - 1 night
Guest house
Guest house
Tash-Rabat - 1 night
Yurts (4-5 people in one yurt)
Yurts (4-5 people in one yurt)
Kashgar - 3 nights
Kashgar Qinibagh
Nanjiang Global Harbor International
Urumqi - 1 night
Urumqi Jin GU
Holiday Inn Express Urumqi Station