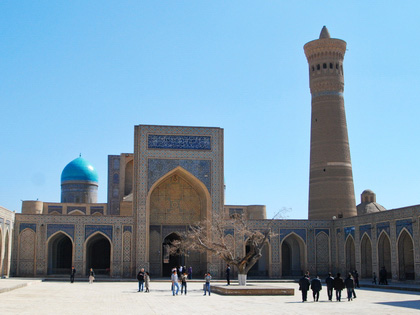 Central Asia and the Caucasus is a fascinating and diverse, yet relatively unexplored, region. Rather than limit yourself to exploring a single country, discover the contrasts and similarities between two countries on this 17-day small group tour of Uzbekistan and Georgia. Experience two different religions as you journey from Uzbekistan's Islamic mosques and madrassahs to Georgia's Orthodox Christian monasteries and churches, and two different types of scenery as you admire Uzbekistan's deserts and Georgia's mountain villages and canyons. At the same time, appreciate the two countries' shared history as part of the Soviet Union, and the common pride of the local people in their rich cultures.
All transfers;
Accommodation based on double/twin room sharing, breakfasts included;
Sightseeing tour program in each country with local English-speaking guides;
Entrance tickets to sights as per itinerary;
Economy class tickets for flights Tashkent-Urgench, Urgench-Bukhara, Tashkent-Tbilisi;
Economy class tickets for trains Bukhara-Samarkand (subject to availability and maybe substituted to transfer by bus/auto), Samarkand-Tashkent (on rare occasions when the high-speed train is unavailable, we will replace this with the most-comfortable class of regular train);
Folklore show program at Nadir Divan-begi Madrasah and dinner at National house in Bukhara, farewell lunch in Samarkand, 1dinners in Tbilisi and 2 dinners in Mestia;
Wine tastings and lunches at Shumi and Merebashvili Winery;
Bottled water during the tour.
Other meals;
Hotel charges for additional services;
International air tickets before and after the tour;
Personal travel insurance.
Accommodation:
Tashkent - 2 nights
Ichan Qala, Sharq, Bek or similar
Khiva - 1 night
Erkin Palace, Orient Star or similar
Bukhara - 2 nights
Minzifa, K.Komil, Bibikhanum, Amulet, As-Salom, Fatima, Kavsar or similar
Samarkand - 2 nights
East Star, Royal, Platan or similar
Tbilisi - 4 nights
River Side, New Tiflis
Kutaisi - 2 nights
King David, Argo Boutique or similar
Mestia - 2 nights
Gold Tower, Mestia Inn, Chubu, Mestia Plaza, Villa Mestia
Kakheti - 1 night
Akhasheni Wine Resort, Schuchmann Wines Chateau Hotel