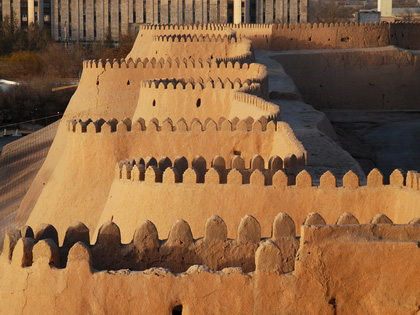 This Silk Road tour is ideal for those who live to travel. Within 36 days, you will visit 8 countries, more than 40 settlements and hundreds of sights. At the same time, this trip will reveal all verges of the East: interesting excursions will tell you about the history of the countries and city legends, transfers between cities will open up the most different landscapes of Central Asia and Caucasus, and thought-out free time will allow learning life of local people.
During the tour, you will visit the south of Tajikistan, the country of mountains with hidden picturesque lakes and small cities; Turkmenistan - the country of endless deserts with oases of ancient cities, some of which have disappeared through the time. You will explore Uzbekistan: discover its ancient cities, Samarkand, Shahrisabz, Bukhara, Khiva, with spectacular architecture and deep history. You will also visit the ancient city of Osh in Kyrgyzstan and get acquainted with Almaty, the former capital of Kazakhstan.
On the second part of the tour you will discover the most significant cities and sights of Caucasus such as Gremi, Telavi, Tsinandali, Sighnaghi, Tbilisi, Yerevan; and enjoy its picturesque nature.
Impressions will overload and you will take a huge baggage of memories with lifetime warranty. Your world will never be the same after you experience this Silk Road tour.
All transfers;
Accommodation based on double/twin room sharing, breakfasts included;
Sightseeing tour program in each country with local guides;
Entrance fees to sights as per itinerary;
Economy class ticket for flights Urgench-Tashkent; Mary-Ashgabat, Ashgabat-Dashoguz; Osh-Bishkek; Almaty-Baku;
Visa support letter for Uzbekistan visa;
Visa support for Tajikistan, Turkmenistan, Azerbaijan tourist visas;
Wine tasting in Kakheti region, Georgia;
Dinner and folklore show in Bukhara (day 10), Tbilisi (day 29), and Yerevan (day 32).
Tour leader to accompany the travellers for the whole period of the tour;
Full board (lunch and dinner);
Hotel charges for additional services;
A tax of 2 USD per night in Turkmenistan, paid to the hotel upon check out;
Consular fees for tourist visas;
Visa support letter for Kyrgyzstan, Kazakhstan, Georgia tourist visas;
International flight tickets before and after the tour;
Tips are not included, but would be appreciated;
Personal travel insurance.
Accommodation:
Economy Option

Comfort Option

Tashkent - 3 nights
Ateca, Navruz, Praga, Grand Capital
Wyndham Tashkent, Courtyard by Marriot, Hampton by Hilton, Mercure
Khujand - 1 night
Khujand Deluxe (mansard room)
Khujand Grand, Khujand Deluxe
Dushanbe - 1 night
Atlas B&B or similar
Hilton Dushanbe or similar
Termez - 2 nights
Meridian
Meridian
Samarkand - 2 nights
Usman, Meros, Asia Samarkand or similar
Dilimah, Sultan, Grand Samarkand Superior, Grand Samarkand, Platan or similar
Bukhara - 3 nights
Minzifa, K.Komil, Bibikhanum, Amulet, As-Salom, Fatima, Kavsar or similar
Paradise Plaza, Omar Khayam, Minor, Asia Bukhara, Zargaron Plaza or similar
Mary - 1 night
Mary
Mary
Ashgabat - 2 nights
Sport, Ak-Altyn, Grand Turkmen
Archabil
Khiva - 1 night
Muso Tura, Polvon Qori, New Star, Orient Star or similar
Zarafshan Boutique, Asia Khiva, Erkin Palace, Bek Khiva or similar
Fergana - 1 night
Asia Fergana, Terra Nova or similar
Asia Fergana, Terra Nova or similar
Bishkek - 3 nights
Damas, Ambassador, Sofiya or similar
Orion
Issyk-Kul - 1 night
Raduga, The Try Korony or similar
Raduga, The Try Korony or similar
Almaty - 2 nights
Kazzhol Park, Garden Park, Mercure
Rixos Almaty
Baku - 2 nights
Molokan Inn, City Park, Sapphire Inn, Midtown, Boutique Hotel Baku, Grand Midway
Holiday Inn, Shah Palace, Park Inn
Sheki - 1 night
Sheki Palace, Ruma Qala, MinAli Boutique Hotel, Macara Sheki City Hotel
Sheki Palace, Ruma Qala, MinAli Boutique Hotel, Macara Sheki City Hotel
Telavi - 1 night
Telavi Inn, Wine Hotel Telavi, Alazani Valley
Akhasheni, Schuchmann Hotel, Esquisse Hotel Telavi
Tbilisi - 3 nights
Old Kopala, Hotel Zeg, Ramada By Wyndham Tbilisi Old City, Tiflis, Brigitte
Ambassadori, Tiflis Palace, Wyndham Grand, Rooms Hotel
Yerevan - 4 nights
Cascade, Ani Central Inn, President or similar
Tufenkian Historic, DoubleTree by Hilton Yerevan, Holiday Inn Republic Square, Grand Hotel Yerevan
Goris - 1 night
Mirhav, MonteBello or similar or similar
Mirhav, MonteBello or similar or similar