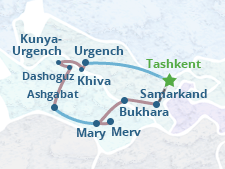 Centuries ago, the deserts of Uzbekistan and Turkmenistan were at the center of world civilization, with people from far and wide coming to stop in the great oasis cities here and share ideas with other travelers. Uzbekistan has a majestic history, which is reflected in the many monumental buildings and sites around the country. The tour begins with Tashkent, the modern capital, and continues to Khiva, a complete medieval town surrounded by thick fortress walls. From there, it's on to Turkmenistan, a country of modern and ancient. The first stop is medieval - Kunya-Urgench was once a thriving center whose architectural influence reached all the way to India. Ashgabat is next, a thoroughly modern city with striking white marble buildings. Mary is Turkmenistan's fourth-largest city, and is located not far from Merv, which was once a busy trading and crafts center on the Silk Road. The final two stops on the Uzbekistan-Turkmenistan Tour are Bukhara and Samarkand, cities that have preserved many of the buildings that were famous far and wide for their grandeur and ornate designs. The Uzbekistan-Turkmenistan Tour 1 takes you to these destinations and immerses you in their world, a world of master artisans, caravans from far and wide, and the flavors and colors of civilizations from far away.
All transfers: 1-2 pax by sedan type car, 3-7 pax by minivan car;
Accommodation based on double/twin room sharing, breakfasts included;
English speaking tour leader in Turkmenistan;
Sightseeing tour program in each country;
Entrance fees to sights as per itinerary;
Economy class tickets for flights Tashkent-Urgench, Dashoguz-Ashgabat-Mary;
Ticket for train Samarkand-Tashkent (on rare occasions when the high-speed train is unavailable, we will replace this with the most-comfortable class of regular train);
Visa support letter for Uzbekistan visa;
Visa support for Turkmenistan tourist visa.
Tour leader to accompany the travellers for the whole period of the tour in Uzbekistan;
Full board (lunches and dinners);
Hotel charges for additional services;
Consular fees for Uzbekistan and Turkmenistan tourist visas;
Migration card paid upon arrival in Turkmenistan on the border 14 USD;
A tax of 2 USD per night, paid to the hotel upon check out in Turkmenistan;
International flight tickets before and after the tour;
Travel insurance;
Tips are not included, but would be appreciated.
Accommodation
Economy Option

Comfort Option

Tashkent - 2 nights
Ateca, Navruz, Praga, Grand Capital
Wyndham Tashkent, Courtyard by Marriot, Hampton by Hilton, Mercure
Khiva - 1 night
Muso Tura, Polvon Qori, New Star, Orient Star or similar
Zarafshan Boutique, Asia Khiva, Erkin Palace, Bek Khiva or similar
Ashgabat - 1 night
Sport, Grand Turkmen, Ak-Altyn
Oguzkent, Nusay
Mary - 1 night
Mary
Mary
Bukhara - 2 nights
Minzifa, K.Komil, Bibikhanum, Amulet, As-Salom, Fatima, Kavsar or similar
Paradise Plaza, Omar Khayam, Minor, Asia Bukhara, Zargaron Plaza or similar
Samarkand - 2 nights
Usman, Meros, Asia Samarkand or similar
Dilimah, Royal, Sultan, Grand Samarkand Superior, Grand Samarkand, Platan or similar