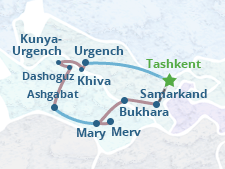 Turkmenistan has been one of the most visited and mysterious countries of Central Asia, now attracting travelers from all over the world. It is the land of rich for distinctive traditions, picturesque landscapes, and unique historical sites. View of ruins of once grand fortresses and remains of ancient cities in Merv, Kunya-Urgench and Nisa that impress contemporary travelers. You will be amazed by exquisiteness of 60-meter minaret (tower) of Kutlug-Timur, the tallest one in Central Asia. You will also enjoy horses of well-known Akhaltek breed. You will make many discoveries in once distant Turkmenistan.
Cities of Uzbekistan such as Samarkand, Bukhara and Khiva are all about oriental charm. Historical monuments of different periods are under protection of UNESCO and taken well care of. Among those are magnificent constructions left after the rule of Tamerlane and present masterpieces of Islamic architecture. Itchan-Kala in Khiva, trading domes of Bukhara and grand Gur-Emir Mausoleum in Samarkand will stay in your memories forever.
During your Uzbekistan - Turkmenistan tour you will experience Tashkent, the largest megapolis of Central Asia, where the traditional quarters of craftsmen are still preserved, and where you will have a chance to bargain and trade in one of the oldest bazaars of the city – Chorsu.
All transfers: 1-2 pax by sedan type car, 3-7 pax by minivan car;
Accommodation based on double/twin room sharing, breakfasts included;
English speaking tour leader in Turkmenistan;
Sightseeing tour program in each country;
Entrance fees to sights as per itinerary;
Economy class tickets for flights Tashkent-Urgench, Dashoguz-Ashgabat, Ashgabat-Mary;
Business/Economy-class ticket for train Samarkand-Tashkent as per option;
Visa support letter for Uzbekistan visa;
Visa support for Turkmenistan tourist visa.
Tour leader to accompany the travellers for the whole period of the tour in Uzbekistan;
Full board (lunches and dinners);
Hotel charges for additional services;
A tax of 2 USD per night in Turkmenistan, paid to the hotel upon check out;
Consular fees for tourist visas and Turkmenistan migration tax (14 USD);
Personal travel insurance.
Accommodation:
Economy Option

Comfort Option

Tashkent - 2 nights
Ichan Qala, Bek, Sharq, Shodlik, Samir, Gloria
Miran, Wyndham Tashkent, City Palace
Khiva - 1 night
Malika Kheivak, Orient Star, Malika Khiva, Qosha Darvoza, Old Khiva
Asia Khiva, Bek Khiva
Ashgabat - 2 nights
Grand Turkmen, Ak-Altyn
Oguzkent, Nusay
Bukhara - 2 nights
Amulet, Minzifa, As-Salom, K.Komil, Fatima, Bibi-Khanym, Kavsar, Kukeldash, Zargaron, Siyavush
Omar Khayam, Devon-Begi, Zargaron Plaza, Asia Bukhara, Minorai-Kalon
Samarkand - 2 nights
City, Platan, Billuri Sitora, Jahongir, Caravan Serail, Malika Classic
Sultan, Grand Samarkand Superior, Grand Samarkand, Platan, Malika Prime, Asia Samarkand