Silk Road Group Tour Prices
Kazakhstan, Kyrgyzstan, Uzbekistan, Tajikistan, Turkmenistan, Azerbaijan, Georgia, Armenia
| Departure | End | Deadline | Status | Price |
| --- | --- | --- | --- | --- |
| Mar 20, Mon | Apr 17, Mon | Feb 3 | Available | US $ 6,830 |
| Apr 3, Mon | May 1, Mon | Feb 17 | Available | US $ 6,830 |
| May 1, Mon | May 29, Mon | Mar 17 | Available | US $ 6,830 |
| May 15, Mon | Jun 12, Mon | Mar 31 | Available | US $ 6,830 |
| Jun 5, Mon | Jul 3, Mon | Apr 21 | Available | US $ 6,830 |
| Jul 24, Mon | Aug 21, Mon | Jun 9 | Available | US $ 6,830 |
| Aug 7, Mon | Sep 4, Mon | Jun 23 | Available | US $ 6,830 |
| Aug 21, Mon | Sep 18, Mon | Jul 7 | Available | US $ 6,830 |
| Sep 4, Mon | Oct 2, Mon | Jul 21 | Available | US $ 6,830 |
| Sep 18, Mon | Oct 16, Mon | Aug 4 | Available | US $ 6,830 |
| Oct 2, Mon | Oct 30, Mon | Aug 18 | Available | US $ 6,830 |
| Oct 16, Mon | Nov 13, Mon | Sep 1 | Available | US $ 6,830 |
Group size: 1-16 persons
Please note that itinerary and prices are subject to change due to airline and train schedule changes, currency fluctuations and other unforeseeable events.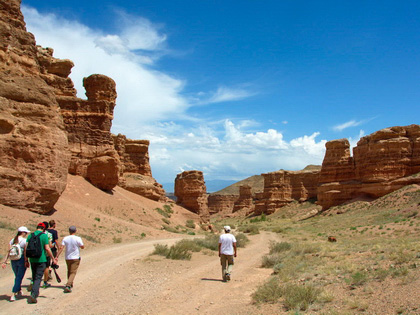 Would you like to extend your trip?
Charyn Canyon Pre-tour
Before your Central Asia or Silk Road tour, why not take the opportunity to explore the enigmatic and elusive land of Kazakhstan more deeply? A journey to take in the spectacular natural surroundings of Charyn Canyon will allow travelers to see the rugged beauty of this country.
View the Tour