Silk Road Group Tour Reviews
Kazakhstan, Kyrgyzstan, Uzbekistan, Tajikistan, Turkmenistan, Azerbaijan, Georgia, Armenia
Tour Reviews
Author
: Lawrence and Beverly D. |
Rating
: 5
3 July 2019
From the USA
Date of experience: 08 April, 2019

Overall, Bev and I had a great trip. The most exotic moments of our adventure were the Seven Lakes and the Darvasa Crater. We also greatly enjoyed the birds of prey and the horsemen show. We have been absorbing the history of Central Asia as we go along and are eager for more. All the guides were helpful and informative; our favorite was Gulshat in Ashgabat. Seven Lakes' guide Afriddun and driver Zaria were charming and fun (we enjoyed the hike to the seventh lake and eating at the lodge). Food and lodging all along the way were interesting and good. We especially liked the Navvat restaurant in Almaty. Connections were good.
Author
: Sharmila U. |
Rating
: 5
3 July 2019
From India
Date of experience: 18 March, 2019

Everything was perfect, the guides, the itinerary on the whole.
Everything was superbly planned, well coordinated by guides, drivers and Zokhid is a wonderful person who takes very good care of everything and everyone. We never felt insecure or inadequate at any point of time, whether it was the border crossing or immigration or long drives.
Regarding Caucasus, the arrangements were exceedingly excellent. Best hotels, well informed caring guides, great food, we wouldn`t ask for more. The whole team was put together very well.
We would like to thank you and everyone in your team for making this trip so memorable for us. We are going back with wonderful memories of the 5 Stans and Caucasus.
Greatly appreciate your team effort and interest taken in minute details of the itinerary.
Thanks once again for everything.
Author
: Michael C. |
Rating
: 5
14 December 2018
Date of experience: 9 October, 2018

This is the first time I`ve been on an organized tour. Through Advantour I was able to see areas that I would not have normally visited. I had no disappointments. I enjoyed trying out the different foods in each country and truly appreciated the different cuisines. The hotels were of a very high quality as were the drivers in each country. All of the guides were extremely knowledgeable.

There was a personal feel to dealing with the Advantour Staff. I truly enjoyed their company. The organization and professionalism was excellent.
Staff: Excellent
Hotels: Excellent
Restaurants: Excellent
Transportation: Excellent
Attention to detail and guest concerns: Excellent
Author
: Thomas H. |
Rating
: 5
14 December 2018
Date of experience: 18 September, 2018

The trip through Central Asia and the Caucasus was spectacular, the sights outstanding and Beck (our tour guide) was a great
and wise leader. He made the trip more personal and informative.. I enjoyed the trip and thank you for making the arrangements.
Next time I would like to visit some areas in greater detail.
Author
: Norbert W. |
Rating
: 5
14 December 2018
Date of experience: 31 July, 2018

First of all I would like to thank Sevara for the very professional and efficient handling of our bookings. It was also nice to meet her in person in Tashkent.

Equally professional in their roles and with a perfect approach to everything were Zokhid and Anna as our tour leaders. They were extremely helpful in every situation.
It was nice to find a plate with (mostly) fresh fruit in most of our hotel rooms on arrival. Also appreciated were the local handicraft gifts we received in 3 of the Stans from Advantour.

Overall, I thought the tour was well put together with a variety of events/items other than mosques, churches and museums, e.g the horse games in Kyrgyzstan, Darvaza crater, markets and bazaars, metro trips, cable car, petroglyphs, wineries.

It was also nice to have "degustation" dinners in a number of countries to introduce the rich range of local food to us.

All the hotels were at a fully adequate standard, or better.
Transportation was reliable and comfortable enough.
The local guides were good in all countries.

All in all a very happy customer. I can thoroughly recommend the tour to anybody.
Author
: Xavier L. |
Rating
: 5
14 December 2018
Date of experience: 01 May, 2018

Im back in HK after an absolutely epic trip. Enjoyed it a lot and learned a lot. Was a great trip and on the whole was very well organised. Through the stans Bek was brillant and went above and beyond to help us and make it an enjoyable trip.
The whole trip was a great success. Thank you very much for all your help. Was greatly appreciated.
Author
: Yvonne B. |
Rating
: 5
14 December 2018
Date of experience: 10 April, 2018

I had the most wonderful time thanks to your company and in particular Zahid our guide and reverend scholar. His description of the history, culture and language of each of the countries and locations were extraordinary and brought to life the wonderful tapestry of the distant past to the present of these intriguing countries.
He also went out of his way to be helpful to everybody, and helped me a lot as my suitcase was quite heavy and difficult for me. He was most considerate and conscious of the group`s needs and at all times fulfilled the wishes of the group.
Accommodation everywhere was excellent.
We had a great group who pulled together under the leadership of Zahid.

Fantastic!!
Thanks for a great tour!
Author
: Gillmore G. |
Rating
: 5
14 December 2018
The tour was fantastic. Having Sevara on hand with speedy responses in perfect English makes a real difference. Also, Zahid is an amazing guide. His knowledge, passion and conscientiousness really were exemplary and I cannot imagine a better guide.
Author
: Flora K. |
Rating
: 5
14 December 2018
Date of experience: 10 April, 2018

The tour was excellent.
We had a great tour leader Zhokhid. He speaks very well English with a good accent, easy to understand him. He is very patient and thoughtful. Very helpful. He always made sure that we had bottles of water provided for free which is very much appreciated.
Length of the tour: excellent and the time spent at each location is perfect. We had free time to do our shopping at Khiva, Bhukara and Samarkand and other places.
Hotels: all the hotels were good. It just the Bek hotel which should improve its breakfast in term of choice and diversity and hot meal.
Drivers: very good, polite. Please give us our thanks for helping to get the luggage out of the coach / car each time. Many thanks.
Transportation: we had the big coach most of the time which was very comfortable for our group of 14 people.
It was very much appreciated that our tour leader arranged to send our luggage to the other destination so that we didn't have to carry it on the train. Very much appreciated and many thanks for the drivers.
Local guides: all the local guides were very good , knowledgeable and very eager to show us their country.
Camping at Darwaza gas Crater: it is a nice experience and 1 night is ok. The tent, sleeping bag and the food were good.
The day after the crater camping, It was very nice of Zhokhid for having started the visit of Asghabat by a 30 min drop off at our hotel to allow us to leave our luggage and have a quick shower. Very much appreciated.
Border crossing: we cannot control everything but our tour leader always managed to smooth the process by talking to the officers, organizing the process especially at the Turkmenistan border.
Author
: Heikki L. |
Rating
: 5
14 December 2018
Date of experience: 10 April, 2018

This tour was my first ever group tour and it was great. Hotels were much better than I had expected. Guides were great, too. I liked Zahids calm way of describing long and varied history of the cities and countries we visited. In summary, the tour was very well organized. I would recommend Advantour.
Border crossings to and from Turkmenistan were frustrating and likely had been even more frustrating with out Zahid. Obviously there is nothing Advantour could do to change that. Anyways it was an experience to be remembered.
Travel to Darwaza and from Darwaza to Ashgabat was tough and long. It was an experience to see the Gas Crater, but at the same time it is the one thing I would had not missed seeing.
Author
: Michal Reed |
Rating
: 5
30 October 2018
The Silk Road trip is intense. You start around 8-9 and finish the day around 6. There are a lot of one night stays and a lot of time in the bus. But if you read the itinerary, this is what you sign up for. A rich, efficient exploration of eight countries in one month. Even as we kept moving, we were aware that we had experienced the best of each area, and that we were willing to sacrifice a rest day, for another new experience. Tour leaders Bak for the Central Asia section, and Anna for the Caucasus, were remarkably knowledgeable, professional, thoughtful and sensitive to the individual needs and interests of the group. The local guides were passionate and knowledgeable, providing talks on the bus rides that enriched out experience of the sights, and entertained us while on the road.
The hotels ranged from comfortable to elegant – all reflecting the regional style. Those of us who chose to pay the single supplement were happier than those who chose to share – it's a long time, with full, social days, and it is good to have some time for quiet alone time.
I chose this trip for the history of the Silk Road, but I learned so much more, so much that I didn't think about before the trip. Learning about the development of science, art, and religion that has evolved in this region for centuries filled in gaps of my knowledge of history in the west. And I was moved by the way each of the individual countries responded after the fall of the USSR; one of the most satisfying reasons to visit all eight countries in one trip.
Though I am mostly an independent traveler, I chose this group trip as I figured that it would be too much work, and not safe, to do the trip on my own. Not speaking the local languages, or Russian even, unsure about border crossings, I wanted the help of locals. The tour leaders made what could have been exhausting, confusing, stressful border crossings as easy as they could be. This is one trip that even after going there, even after experiencing a safety level much higher than in the US, I would still recommend taking the Advantour group trip.
Author
: Sandi Ulmi |
Rating
: 5
29 October 2018
The Silk Road Group tour which we have just completed was a pleasure in so many ways. We were educated by the history, culture, architecture, and politics of the area and delighted by the friendly hospitable people. Our guides, Bek in Central Asia and Anna in the Caucasus were excellent, taking care of every detail to ensure the trip ran very smoothly. I would highly recommend Advantour and a visit to this fascinating area of the world.
Author
: Resh |
Rating
: 5
23 October 2018
I believe that the tour was conducted brilliantly by both the tour leaders along with the local guides were extremely courteous and helpful. We really appreciate the fact that tour had water provided on all transports and adequate vehicles were provided during the tour. I would like to end by saying that this was a great experience and exposure to the diverse landscapes that are riddled with history and nuances of the modern era and we are mostly delighted that we attended this tour with Advantour. Would strongly recommend others and hopefully would do it again ourselves (dedicated small tours).
Author
: Rose-Marie Tso-Ling Twu |
Rating
: 5
1 November 2016
So much history, geography, culture, folklore, and the diverse people: from the BCE ruins in the desert to exquisite mosques and caravanserais of the Silk Road to medieval castles amidst the cities to majestic mountains and yes, requisite bumpy roads. Even if I can't remember all that I've learned, I thoroughly enjoyed all there was before me. I am enriched and rewarded.

Advantour's adjoining group tours of Central Asia and Caucasus grade highly on itineraries, guides, hotels, and transportation with only a small exception. Yuriy was detailed and courteous, from customizing my trip to engineering the retrieval of my lost glasses (difficult from Turkmenistan). I was solo in a group tour with 3-7 others at various times, price was reasonable – not broken down by items. Trip of a lifetime.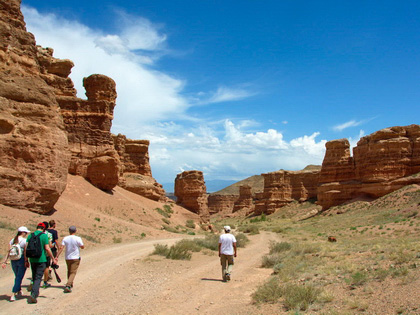 Would you like to extend your trip?
Charyn Canyon Pre-tour
Before your Central Asia or Silk Road tour, why not take the opportunity to explore the enigmatic and elusive land of Kazakhstan more deeply? A journey to take in the spectacular natural surroundings of Charyn Canyon will allow travelers to see the rugged beauty of this country.
View the Tour