Highlights
Haggle for spices in Tashkent's vibrant Chorsu Bazaar
Get lost in Ichan-Qala, Khiva's ancient walled town
Enjoy a traditional dance performance
Be dazzled by Samarkand's turquoise tiles
Visit Bukhara's minarets, mosques, and madrassas
See the colourful 1,300-year-old murals in the ancient settlement of Penjikent
Enjoy a picnic next to one of Tajikistan's Seven Lakes in different shades of blue
Step back in time with a visit to Bishkek's Soviet architecture and murals
Taste the traditional Dungan dish of ashlan-fu in multi-ethnic Karakol
Experience the life of a nomad from your yurt next to one of Kyrgyzstan's highest lakes
Enjoy a Kyrgyz folkloric show with Kyrgyz national music and songs
Learn how to make a traditional felt carpet in Kochkor village
Marvel at the snow-covered peaks as you hike the Ala-Archa alpine gorge
The Silk Road Group Tour has everything to bring out your adventurous side - go from modern cities to ancient ruins, from the greenest of mountains to the driest of deserts. Even across thousands of kilometers and dozens of cities, each country's local colors and flavors will leave you with a distinct impression. Start in modern Almaty, then head to the towering mountains of Kyrgyzstan, followed by a dip into Tajikistan's history in Penjikent. Take extra time at the many archaeological sites of Turkmenistan, then wander through the timeless cities of Bukhara and Samarkand. Then move to the Caucasus: travel through time as you discover Azerbaijan, let the tastes of Georgia sweep you away, and finish up with panoramas of Armenia. From rough stone walls to the softest silk, broaden your horizons and deepen your knowledge with the Silk Road Group Tour.
Accommodation
13 nights
in standard hotels
13 nights
in comfort hotels
1 night
in a homestay
1 night
in a tent
Transport
5 flights
2 trains
Car/minivan/bus
Meals
28
breakfasts
5
lunches
6
dinners
Special events
National horse game
Yurt construction
Folklore show
Cooking masterclass
Two wine tastings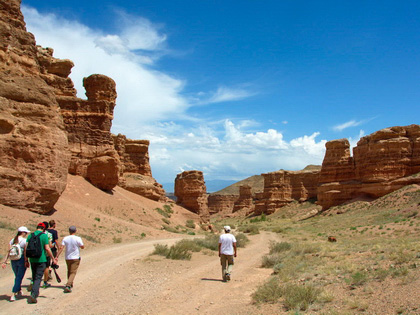 Would you like to extend your trip?
Charyn Canyon Pre-tour
Before your Central Asia or Silk Road tour, why not take the opportunity to explore the enigmatic and elusive land of Kazakhstan more deeply? A journey to take in the spectacular natural surroundings of Charyn Canyon will allow travelers to see the rugged beauty of this country.
View the Tour